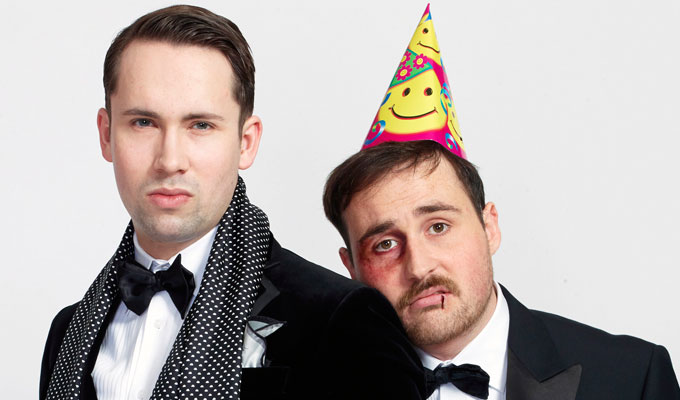 Max & Ivan: The Reunion
Note: This review is from 2013
Sometimes less is more. Max & Ivan made their Fringe name from frenetic parody comedy, with characters and scenes crashing into each other at dizzying pace as they mocked heist movies and Sherlock Holmes adventures.
Perhaps realising this was always going to invite comparisons with the hard-to-equal Pyjama Men, the talented duo have taken their foot off the accelerator for this year's offering. There are fewer characters; a slower pace – and yes, not so many jokes. But The Reunion is all the better for it, as scenes are given space to breathe and the story imbued with an emotional heart that's hard to resist.
The hero of their tale is the 'adorably feeble' Brian Billingsworth, a sickly boy, perpetually on the brink of dying from his many allergies or syndromes, now grown up to be an equally frail adult. He's been invited to his ten-year school reunion; a chance to meet up again with Jessica, the object of his childhood affections, and maybe, in his wildest dreams, make his unrequited passions requited. Jessica, however, has since hooked up with a suave and successful drinks importer, who's coming along, too.
Supporting the main story are a cast of well-drawn characters bringing their own jokes to the party. The mature student seducing her teacher with the erotic use of oxbow lakes and Commonwealth nations is a delightful scene; while the two feuding wannabe musicians Paul and Alex, deliver both strained puns and some lovely audience interaction, making their 'volunteer' a hero, not a laughing stock. Meanwhile, the tension is ramped up by the bland Alan Jones, who is driven to dangerous depression as no one seems to remember him at all.
Considering it's produced on a shoestring – with almost every prop mimed and Max & Ivan playing every role, even if it means talking to themselves – the show has a cinematic feel worthy of the teen movies it is affectionately parodying, thanks to the ambition of the plot and the 'journey' of the characters.
It's tightly plotted, with clever devices such as the flashback employed to silly effect, but loosely performed, giving a sense of spontaneous verve. There are small but effective touches throughout, from a savvy 2003 soundtrack to the names of the fictional bands Paul and Alex used to be in.
But its main asset is the empathy the audience has for poor Brian, which transforms a feelgood hour of Knockabout fun into something that packs an sentimental punch.
Review date: 12 Aug 2013
Reviewed by: Steve Bennett
Recent Reviews
What do you think?