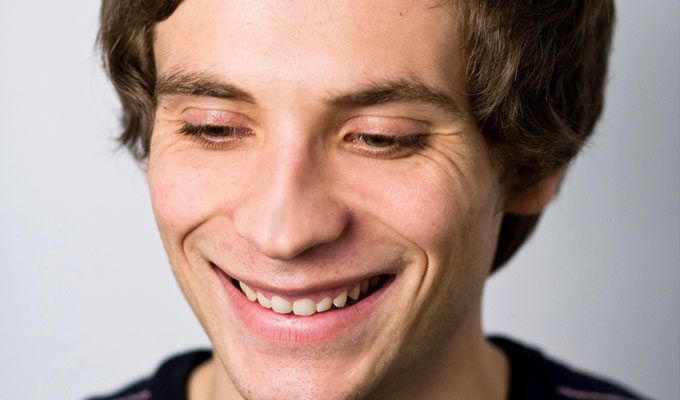 Daniel Simonsen: Stranger
Note: This review is from 2013
It's difficult second show time, for last year's best newcomer. Super-deadpan with a raspy, guttural, heavily inflected accent, Norwegian Daniel Simonsen looks boyish but sounds older than stone.
But that's not how he began this evening.  He started by deploying his expressive face – which he usually keeps in neutral – to become a wide-eyed cartoon, lips folded over his teeth, very quiet, pretending to be a cat hiding from an imaginary dog. So far, so sweet, so Playschool. But then he dropped the mild pussycat voice and began the show in earnest, no longer playing cute with the audience.
He's analytical about comedy, about the star system of reviews and painfully honest – explaining that his deadpan style is mainly the result of the fear of seeming a prick, in his words, before giving a suitably ludicrous imitation of his more high-energy comedy brethren, gurning and loping about the stage.  
Mainly though, the pace of the show is testingly slow, making me think of a Nordic Norman Lovett.
Simonsen has written some genuinely decent observational material that has the audience nodding and laughing in agreement, but the room never rips apart. There are gigglers in the room, it's all encouraging, but even they are gradually stilled when he goes for the deadpan clown stuff – it was definitely a WTF moment for me.  
He checked his watch several times (as did I) and even announced how long there was to go, while he shoved the mic up his T-shirt and repeated, 'Oh' several times. Mystifying. What was he meaning to happen?  
He's likeable and watchable, very much in control, but the show lacked momentum and direction. It was like listening to somebody only using a handful of keys when they have a whole piano at their disposal.  I'm sure this was an artistic decision, full of integrity, to go minimal, but dear God, it was tough on the audience.
Review date: 12 Aug 2013
Reviewed by: Julia Chamberlain
Recent Reviews
What do you think?