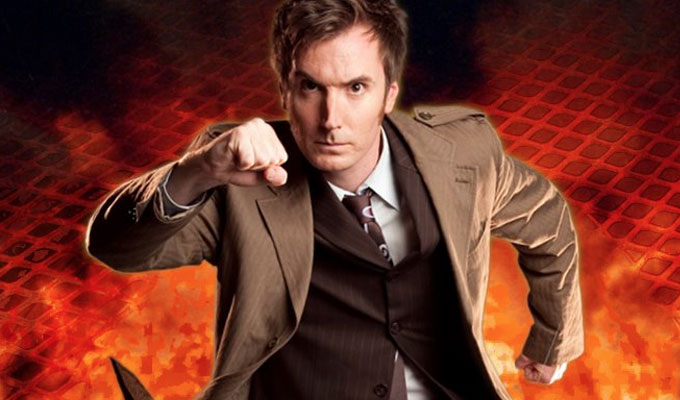 Rob Lloyd: Who, Me?
Note: This review is from 2013
As the online world goes loopy about Peter Capaldi becoming the 12th Doctor, it's hard to remember a time when Whovians were pariahs, even among other geeks. But Australian comic and actor Rob Lloyd can't forget, as his obsession consumed his life as he emerged into adulthood in the small country town of Wagga Wagga.
This very theatrical show takes the form of a trial in which we the jury must decide on whether Doctor Who ruined Lloyd's life or shaped it, as he confesses to the extremes to which his infatuation took him: from 'procuring' VHS videos from hire stores across Australia (no such things as torrents in those days) to suggesting a viewing marathon might be a good first date.
Who, Me must be easy to market, with its obvious hook for fellow devotees – although there are at leasy three other Who-themed shows on the Fringe vying for their attention –  but does it hold enough interest for those who can't tell their Sontarans from their Silurians? After all, it's an hour they won't get back (unless, well, you know...)
Lloyd certainly starts with a barrage of in-references that might alienate, for want of a better word, the lay person, especially a cheesy stand-up routine based entirely around the show. He apologies for the self-indulgence and applauds us for sitting through it, but it's definitely one for the fans only.
Gradually, though, he pulls back and tells a story that could be about any early-adult obsession; a way of both shielding from the real world and dipping a toe into it by connecting safely with like-minded people. It's just that Doctor Who just isn't – or wasn't – as acceptable as, say, football.
Toby Hadoke has, of course, previously mined the very same area with his Fringe hit Moths Ate My Doctor Who Scarf, which was both more conversational that this, and a more impassioned defence of a TV show, in which he saw parallels with his own life.
Lloyd, who tires of people telling him he looks like one of the former Doctors, instead has a more anecdotal style beneath all the theatrical gubbins, describing old friendships and sharing his tales, including several from the rough school he ended up teaching at. It's more of a storytelling hour than out-and-out comedy, and some of the attempts to gag it up, such as describing his actions in the style of a David Attenborough wildlife documentary, are contrived.
But he's a solid yarn-spinner and an assured performer, holding the lunchtime audience rapt, even if they are not guffawing.
Review date: 7 Aug 2013
Reviewed by: Steve Bennett
Recent Reviews
What do you think?