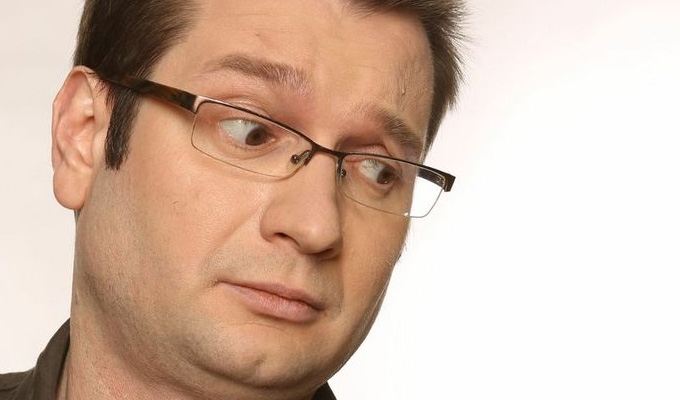 Gary Delaney 2: This Time It's Not Personal
Note: This review is from 2013
In honour of Gary Delaney's simple approach to stand-up; a simple review. He tells a lot of one-liners, most of them funny, until the show's over.
That's it. He promises no emotional journey, no insight into his psyche. He's got a good relationship, and his father's in fine fettle, he tells us. So instead here are a few dozen short examples of inventive wordplay, unrelated to anything, to amuse us all.
Brevity is indeed the soul of his wit, and he's built up quite a Twitter following because of it; though he saves the best gags for live. And in this show this Picasso of puns has got plenty of them.
He admits he's childish and immature, but that allows him to get away with some of the more questionable lines which earn the show its 16+ rating. But there's never any doubt they are anything more than daft wordplay, and he'll alleviate a sex gag with something a lot sillier.
Unlike Jimmy Carr, who works in similar territory, Delaney adopts a low-status position, even making a big play of getting his inhaler out to emphasise his vulnerability. He's ungainly as he lollops and shuffles around the stage, and looks something of a mess in three-quarter length shorts that overweight 40-year-olds really shouldn't be wearing.
In a week in which robot stand-ups are in the news, Delaney has his own version, the Compere-A-Tron 3000. But this is merely a list of put-downs on a clipboard that, randomly chosen, slam his chosen victim for living in a crap town and having a crap job.
It's one of a few maguffins he uses to break up the parade of one-liners. There are a couple of gags in cartoon form, too, plus some spoof letters he wrote to Dear Deirdre posing the sort of problems she's not used to dealing with, plus he takes issue with the lyrics of a couple of songs. These digressions are never as good as the unadorned jokes, but it's easy to see why he does it.
And he deploys his PowerPoint for the best section of the lot, in which he vandalises Wikipedia with his brilliantly inappropriate gags, to provide an hilarious conclusion to an hour that just zips along. You'll never see ALF in the same way again.
Review date: 7 Aug 2013
Reviewed by: Steve Bennett
Recent Reviews
What do you think?