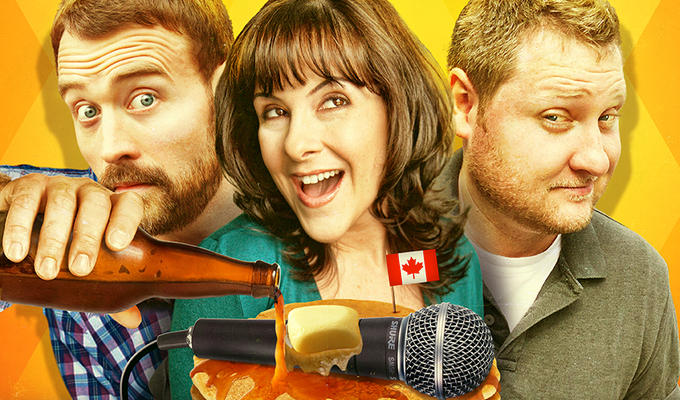 Canadians of Comedy
Note: This review is from 2013
Canada has produced some of the best comics working in Britain today, three of them – Stewart Francis, Craig Campbell and Glenn Wool – just having toured under The Lumberjacks banner. And here, the acts involved no doubt hope, is the next generation.
To say The Canadians of Comedy gets off to an inauspicious start would be an understatement. If you were creating a parody of clichéd, unambitious stand-up, you couldn't do much better than Allyson June Smith.
She starts by complaining about being mistaken for American, comments that she looks like a celebrity, Sarah Palin (and for the record, she looks nothing like her. They do both have glasses, though and we all know Harry Potter is the same as Ronnie Corbett), and makes the observation that where we say 'bum', North Americans say 'fanny'... with tediously predictable consequences. Subsequently we learn that Susan Boyle's not much of a looker. That's as topical and insightful as it gets.
She consistently, desperately, seeks reassurances from the audience. 'Am I right?' But gets nothing back; partly as festival crowds aren't the most interactive, partly because it's hard to imagine anyone really giving a hoot what hackneyed old toss she's spouting. Still, she persists in asking.
At one point, Smith, who's been living in Manchester for a year, thinks our lack of reaction is down to being too edgy for us: 'Oh my god! Have I offended you with a fingering gag?' No, you're way off the mark there.
Redeeming features? Well, she does a very good parody of Britney Spears' singing voice (is that enough for a career?) and possesses a confidence in delivery entirely unwarranted given her dated, unimaginative and bland material.
Thankfully the show gets better as it progresses, and Smith's followed by Tim Rabnett, a 35-year-old with 15 years experience in stand-up – which explains the slickness of delivery.
Much of his set is concerned with the grooming habits of a middle-aged man, with a surprisingly large amount of material on dental floss. Still it's testament to his observational comedy skills that he can wring so much out of something so mundane without seeming like he's clutching at straws.
The delivery's warm and natural; the metaphorical guy at the bar mulling the state of his life and his relationship to anyone who'll pull up a stool next to him. None of the material is classic, but it's funny enough – 'relatable' the TV types would say – and a jolly, solid comic's exactly what was needed at this point.
Closing act was Paul Myrehaug, who's been in the UK for the past two years, making his way up the comedy circuit. He's a stronger comedy flavour than Rabnet, with the battle-hardened air of a lifelong road comic, with a faulty moral compass and an underplayed swagger to his stance.
A couple of routines seem like easy pickings – comparing drunk groups of girls looking out for each other compared to prank-loving boys seems familiar – but scores well with the dirtier jokes, be they on vaginal care or an entertaining yarn about being a cougar's prey in his youth. The story's braggadocio turns to humiliation at his sexual naivity as, in a panic, he makes up a position called the Petrified Seagull, but is failed by his imagination when it comes to what it actually entails.
Review date: 2 Aug 2013
Reviewed by: Steve Bennett
Recent Reviews
What do you think?