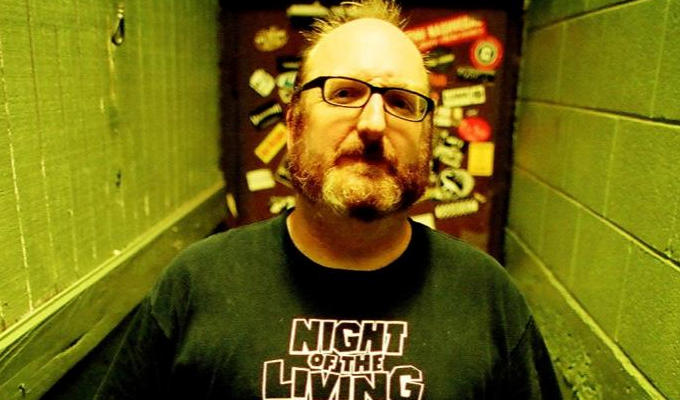 Gig review: Brian Posehn
Note: This review is from 2013
Brian Posehn lumbers around the stage like a dinosaur, an imposing physical presence but slow-moving and ungraceful. By the sound of his material, he feels almost prehistoric, too. He's 47 – imagine! – old enough to remember the original Star Wars film at the cinema, and old enough to be able to describe how his body, inadequate even at its prime, has been rendered unreliable and temperamental as time takes its brutal toll.
Physical disintegration is the bread-and-butter of the middle-aged comic; but Posehn – best known for his work on Mr Show and The Sarah Silverman Program – assesses his condition with the resigned acceptance of a man racked with self-hatred, able to confess his embarrassments openly as he has no dignity left to lose.
In this he shares an outlook with the similarly vintaged Louis CK, although Posehn can be a lot more puerile about the body's failings. Exhibit A? His last album was called The Fartist... and indeed his flatulent tales are among the funniest here. This, and a stand-out routine about his 'leaky dick', prove that even lowest-common-denominator gags can be done with style.
That he's so clearly a social outsider also informs his stand-up. 'I made it weird,' could almost be a catchphrase for a lot of his awkward human interactions. But, actually, 'I was so fucking high,' is the sentence he uses most often.
Stoners will certainly identify with such segments, but non-potheads can quickly tire of stories that start this way, even if the idea of a man old enough to know better conducting himself like the laziest student, clearly has a comic dissonance. His obsessions with the nerdier side of popular culture – another trait more traditionally associated with feckless youth – are similarly divisive. Kindred spirits can enjoy the niche comedy; while others may be left behind.
He's a comedian for the shiftess, so perhaps it's appropriate that he's underperforming on these topics, lacking some of the effort needed to bring them up to the hilarious, erm, highs his 50-minute set also boasts.
- by Steve Bennett
Review date: 26 Jul 2013
Reviewed by: Steve Bennett
Recent Reviews
What do you think?