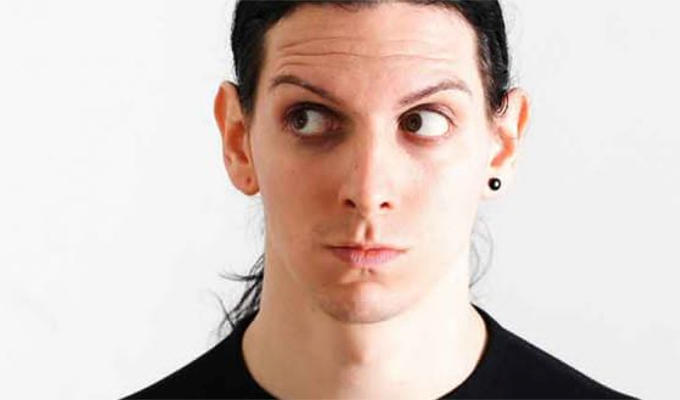 Andrew O'Neill at Latitude 2013
Note: This review is from 2013
Andrew O'Neill is the second most famous transvestite to play the Latitude Comedy Arena this weekend...and quite some way behind the first. Yet on the evidence with this storming set – performed in a slinky off-the-shoulder number – the gap between himself and Eddie Izzard ought to be closing fast.
If audiences don't initially quite know what to make of him, O'Neill uses that confusion to his advantage, launching with a tediously repetitive rendition of Jingle Bells, which pedants might deem out of place the hottest day of the year, as he purposefully baffles people further.
Then just as the feelings of 'who is this looney?' reach their peak, he launches a dizzying bombardment of sneaky puns and silly song snatches to establish his comedy credentials beyond doubt. It's a flamboyant show of odd, but smartly-written material, relentless in its assault. Imagine Harry Hill as a cross-dressing metalhead, and you're somewhere close.
This is just one of several styles O'Neill draws on during a set that's variously surreal, thoughtful and observational. As well as the nonsensical wordplay, he offers some strongly insightful social comment, ranging from reaction to his own wardrobe choices to the outdated observational comedy generalisation that men and women are different. "yeah, some are,' he shrugs dismissively.
The mechanics of stand-up formulae are further strained with his near-endless supply of metaphors for the tightness of his own sphincter... a wilfully patience-testing section that probably wouldn't exist if Stewart Lee hadn't pioneered that approach, but still O'Neill has fun with it.
It's hard to pigenonhole a comedian who one minute jauntily rewrites classic pop songs for the colour-blind, and the next rumbles intimidating death-metal lyrics into the face of a terrified front-row punter as part of a routine that started with small-talk at a bus stop – but there is one category you can put O'Neill into: the one marked 'funny'.
Review date: 22 Jul 2013
Reviewed by: Steve Bennett
Reviewed at: Latitude
Recent Reviews
What do you think?