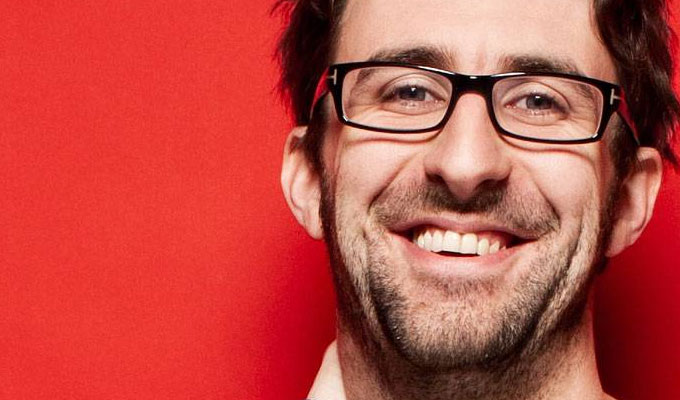 Mark Watson at Latitude 2013
Note: This review is from 2013
A potentially suicidal man exposing his genitals on Ipswich station has ruined Mark Watson's day. He, like a lot of other Latitude performers and attendees, endured a nightmare journey from London to this Suffolk field that ultimately took him eight hours. It meant he went on after the Comedy Arena was scheduled to have wound down for the evening, and therefore to about half the audience he might otherwise have expected.
He describes this ordeal in great detail, as he does anything else that pops into his head, such as his observations on the bands appearing here this weekend or the worryingly young age of some of the children in the audience. It's unfiltered and unedited, feeling very much like a casual chat with a mate – albeit one who tends to over-think things.
The style involves something of a trade-off. There are fewer laughs than a carefully-written set, because it's a one-sided conversation that doesn't have engineered punchlines; but the approach forges a closer bond between Watson and his audience. And he has well-developed comic sensibilities, so will land the laughs through this chat – and because we know that was achieved through improvisation, the appreciation is higher.
Plus, of course, there are prepared routines folded into his performance; the best of which involve his dawning realisation that he was drinking too much. Mild-mannered Watson is no rock-and-roll comic sharing boisterous adventures for us to enjoy vicariously; instead he paints a near-tragic picture of drinking alone, post-gig, in depressingly anonymous budget chain hotels.
He realises comedy and tragedy are close bedfellows, and is brilliantly, darkly, fully when frankly describing his own struggles with sobriety – such as the strain of enduring things that, tipsy, he would have let slide, allowing for fruitful strand of observational comedy through the prism of intolerance. He also touches on issues of his own fragile mental state. He's not yet at the stage of waving his genitals on station platform, but through his stand-up, he's exposing himself to strangers in a different way. It may be therapeutic for him, but it's certainly providing a welcome new edge to his comedy.
Review date: 22 Jul 2013
Reviewed by: Steve Bennett
Reviewed at: Latitude
Recent Reviews
What do you think?