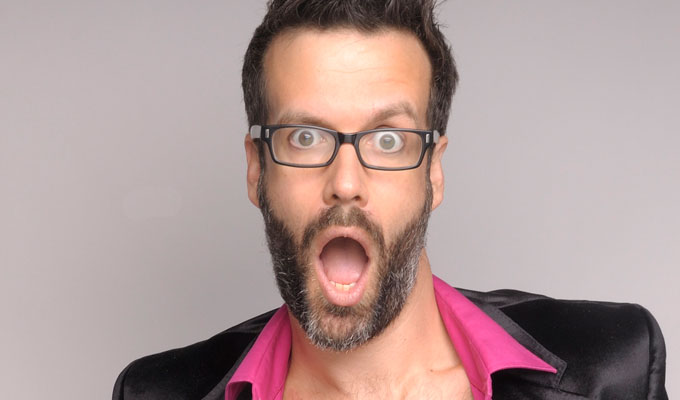 Marcus Brigstocke's Policy Unit at Latitude 2013
Note: This review is from 2013
If real manifestos are put together as haphazardly as the process used in Marcus Brigstocke's Policy Unit, it would explain a lot about the state of the nation. It's nominally a panel show, in which ideas to improve Britain are floated in a round-table discussion by the guests, then voted on by the audience. But Brigstocke plays fast and loose with his own format, allowing the discussions to go where they may.
That explains how an item about Sharon Osbourne throwing a pen at an X Factor contestant would up in the territory of snake cannibalism, thanks to an impassioned Andrew Maxwell anecdote, likened by Robin Ince to a the Animal Planet channel after a night on the beer.
As that suggests, the political angle of the show is not vigorously policed. A debate of post-Olympic sports funding – which the astute, opinionated and always good-value Maxwell described as a tax on the poor to fund the pastimes of the rich – sits next to a discussion of 'sex museli', a breakfast cereal designed to boost your libido.
Any panel show is only as good as its guests; and this line-up of wannabe wonks, certainly delivered. There's an unstated class division with man of the people Maxwell, middle-class Ince and the more privileged Simon Evans (not to mention Brigstocke himself) which gave the discussions a plurality of voices. But, crucially, all are astute commentators of the world from their point of view.
The banter flowed freely, even given that the teams hadn't had sight of the stories before they were brought up, and the conversation brought up some imaginative solutions to problems. Ince's suggestion that you need a 'booze licence' before you're allowed to drink, to prove that you're not a dick under its influence, seemed eminently sensible – and probably received the strongest approval with a crowd that were otherwise largely apathetic to the voting process. How comedy reflects real politics.
If there's one fly in the ointment of Policy Unit making it to its own series on Radio 4, its natural home, it's that it bears some similarities to Mark Thomas's show The Manifesto. 'Frighteningly close,' Brigstocke admitted. But as a panel show rather than Thomas's stand-up, it certainly works on its own terms.
Review date: 22 Jul 2013
Reviewed by: Steve Bennett
Reviewed at: Latitude