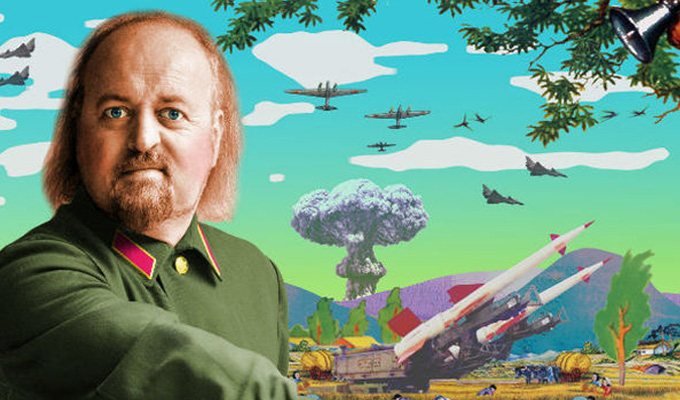 Bill Bailey: Qualmpeddler
Note: This review is from 2013
Bill Bailey has a subtle prop in his new Qualmpeddler tour – an unlit pipe.
It completes his duffer image perfectly. After he's set out an item of cod philosophy, he holds the device sagely to his mouth. Yet the image is not quite of the thoughtful man you might assume Bailey wants, but more like a child puffing proudly but ineffectually on his father's totem, in the misplaced belief it makes him look all grown up.
And that is the perfect symbol for his comedy: aiming high, but enacted childishly, with joy, intelligence and silliness in equal measure.
For Bailey is a comedian who manages to both over-think and under-think any situation. A smart man who's bound by reason, yet uses it to explore bizarre topics from a unique angle. It's daft, but rooted in reality – and with a heart, too.
Owls and badgers are the clichés of lazy comic surrealism, and they both get a mention here; but in Bailey's hands the first, especially, forms a central pillar of his show, as he describes how he freed one from being dish of the day in a restaurant in China. When the story is resumed in one of the many well-deserved encores, it gives a surprisingly poignant note to the night.
The elaborate stage set evokes his nature-loving side, too, as he performs in front of a jungle of foliage, his musical instruments hidden in the shrubbery. He is the first rockery and roll comedian. Above him, a screen projects a few short films, which segue neatly from his stand-up and rarely feel gratuitous.
It may be because this week's Hammersmith Apollo gigs have been recorded for DVD, but Qualmpeddler is denser and more focussed than some of Bailey's previous offerings. The focus is not in the subjects or his comedy style, as he dances around both, but in ensuring you're never far from another eloquent joke.
There is surprisingly pointed politics as he lances party leaders with the perfect eye of the best satirical cartoonist, equipped with a beautifully lyrical turn of phrase. There's a sarcastic commentary on the vacuity of celebrity (step forward Chantelle Houghton). And – of course – there are the musical mash-ups, which are particularly prominent after the interval: the theme from Downton Abbey on a reggae tip, or the Match of the Day theme played in a different key or tempo to evoke emotions far from the excited triumphalism of the original. By the time he plays a country number on a guitar fashioned from a Bible, the logic seems perfectly reasonable.
But Bailey doesn't just remix music, he puts large chunks of life and pop culture into his mental blender to produce a rich smoothie of comedy. Laws of physics, LOLing, cut-price shark dives, the Alberti bass musical accompaniment, will.i.am, cognitive dissonance, his uncertain place among the well-turned-out West London middle classes – the set list is certainly eclectic. And his audience are as bookish as him... you don't get many heckles of: 'It's hyphenated!' in the rowdier clubs.
A few topics have been recycled from previous shows, but Qualmpeddler is Bailey on form, combining the smart and playful, whimsical and political into a widely appealing package. I've certainly no qualms in recommending it.
Review date: 19 Jun 2013
Reviewed by: Steve Bennett
Reviewed at: Eventim Apollo
Recent Reviews
What do you think?