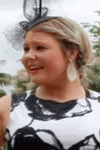 Hayley Brennan: She's Off And Racing
Note: This review is from 2013
Hayley Brennan is all dressed up, but her show has nowhere to go.
She's donned her finest Melbourne Cup frock for the loose analogy that life is like a horse race. It doesn't really stack up to much, and is only alluded to in a spoof commentary that breaks her monologue up into ten-minute chunks.
Whatever the conceit, Brennan is handicapped by the tiny problem of having nothing to say and no comic attitude. Reviewing her is like reviewing nitrogen; it's there but doesn't do much. It's hard to hate something so inert, but impossible to really like, too.
She's Off And Racing, her second festival offering, is a show about herself, but after 50 minutes, we are left with little clue about who she is at all, other than being a 23-year-old singleton from Geelong who's read Harry Potter far too often. She shares some comments about her family and some mildly embarrassing incidents, usually involving awkward flirting with boys, but there's precious little self-analysis, and the stories aren't extraordinary, or even made to feel that way.
She might be too young to have figured out who she is yet; but she also doesn't succeed in making that lack of self-knowledge a selling point. This is supposed to be yet another one of those shows about growing up, but she's got a lot of development to do as a comedian, too, and certainly more than a few minutes is way beyond her current capabilities of simply being able to talk in public.
As well as the inconsequential stand-up, she gives us a rap about about people playing their music too loud on public transport that's neither witty nor well-done, as she's quick to acknowledge. Then there's the weird interlude of an amateurish card trick that feels like a teenage showing off at a family party. Does she know she's in the same festival as professionals?
And that question applies to her way-too-mild comedy as much as it does to the entry-level magic.
Review date: 10 Apr 2013
Reviewed by: Steve Bennett
Reviewed at: Melbourne International Comedy Festival
Recent Reviews
What do you think?