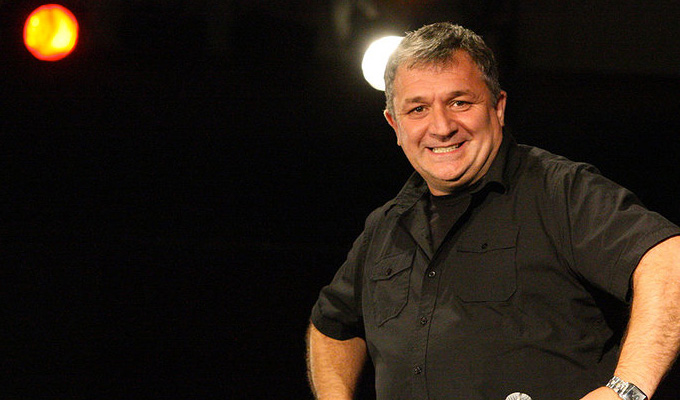 Smug Roberts – Original Review
Note: This review is from 2003
It's charisma, more than material, that stands Roberts in such good stead.
His opening lines are was little more than inane comments about the bargains to be had at Asda or Netto. Yet the mere mention of each corporate brand name sparked hearty laughs of recognition.
Roberts really only has one angle - that he's a struggling househusband while his successful career-driven wife is the one wearing the trousers. It's straightforward role-reversal comedy, as he trots out a load of tired old stereotypical observations, but always with that same twist.
With him, it's the wife who comes home late and drunk, demanding sex, while he does the washing-up, can work wonders with mince and knows the WeightWatchers scoring system.
While it's well done, it's a pretty thin premise to base an entire set on, and all becomes quickly predictable. Not that the audience seemed to mind, eagerly lapping up every mediocre line. Perhaps the idea of a man being so domesticated is funnier than you might imagine.
He ventures momentarily off this track with a routine about Coronation Street - although any of the 48 million people who DON'T tune in, may well be left cold and baffled by what is presumably accurate mockery.
To close, Roberts again goes for the cheap and easy laugh, as he mimed taking his wife from behind to various Take That hits. Still, audiences lap it up.
Roberts knows a thing or two about commanding an crowd - perhaps picked up from his boss from the days when he ran Manchester's Embassy Club, owned by one Bernard Manning.
Thankfully, he didn't follow his former bosses' route into comedy, but his material remains resolutely mediocre, no matter how nicely polished and packaged.

Review date: 1 Nov 2003
Reviewed by: Steve Bennett
Recent Reviews
What do you think?