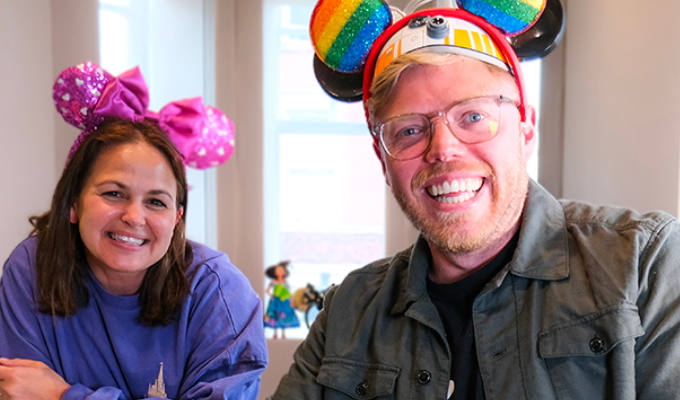 Rob Beckett: How Brian Conley inspired me
Rob Beckett has told of how he was inspired to become a stand-up after watching Brian Conley at Butlins.
Speaking on a podcast, the comic was asked his first holiday memory, and said: ''I think it might be in Butlins – and it's probably why I wanted to do stand-up.
'I remember watching Brian Conley, I didn't know it was Brian Conley – it was just a funny man, and he was doing a funny joke where he pretended to have a baby in a buggy. It was obviously just a doll, and it was pretending to cry, and he was going "Shut up" and all that kind of stuff!.
'I remember sitting in the Butlins crowd watching him, it's probably one of my earliest memories.'
Beckett was speaking to Giovanna Fletcher on the podcast Journey To The Magic, made by the Walt Disney Travel Company.
Although his description of the travel chaos he endured last time he travelled to Orlando might be a little offputting for other families…
'We were in a hotel at Gatwick and the flights got cancelled at 1am, so Lou [his wife] woke up at 4am and found the message,' he recalled. Our flight was at 11am.
'We were like "What?!" So basically, I had to rebook flights, get from Gatwick to Heathrow – and there were two families, so we had to move four adults, three toddlers, a one-year-old baby about 20 cases and a buggy in two separate minibuses.'
And after all the stress he got on the plane and 'just stared at a blank screen for about seven hours. And it was actually quite peaceful.
Then I had four rums and fell asleep with my mouth open – which Lou took photos of. But yeah, travelling with kids is not good.'
'But travelling without kids is so good, isn't it? You just rest. You are just sat in a chair, if you could say to a parent, just sit in a chair for 10 hours.
'I used to be scared of long haul. Now I pray for it with work. Can you just sit in that chair for 12 hours? What else do I need to do, just eat and drink that's fine.'
Beckett's episode of Journey To The Magic is out today.
Published: 22 Jun 2022
Recent Punching Up
What do you think?