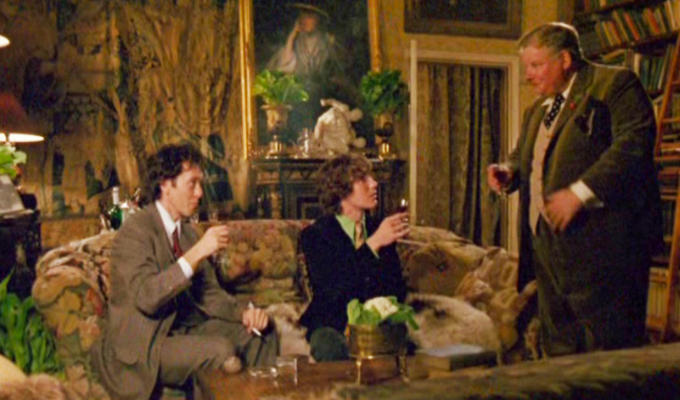 For sale: Uncle Monty's art and furniture
Furniture and art that featured in Withnail And I is to go under the hammer next month.
The items were seen in the cult 1987 comedy in the London living room of the eccentric and predatory Uncle Monty, as played by Richard Griffiths.
His luxurious Chelsea townhouse was, in fact, West House in Glebe Place, the real-life home of textile designer Professor Bernard Nevill - and the scenes were filmed in his living room.
Auctioneers Bellmans is now selling items from that set as part of the auction of his estate, on February 23. Proceeds will go to charity.
The auction house says of Nevill, who died in 2019: 'In his spare time he was a collector, in fact a hoarder of antiques, and his hobby was to restore houses and stuff them with the purchases he made all over the place.
'He had a particular love for Victorian art, which had fallen out of fashion due to the fact that most pieces were rather massive. Collecting was almost "a disease" as he tried to save books, textiles, clothes, furniture and objects from death, often even from skips.
'His collection became rather vast and he soon started collecting buildings and architectural salvage as well.
'His first house was West House in Chelsea, bought from the Church Commissioners in 1976 and designed in 1868 by Philip Webb, William Morris's pet architect. It was here that Withnail and I was filmed.'
Nevill loathed the comedy as being 'too near the bone', and its director, Bruce Robinson, and stars tried to work when Nevill was out shopping, as he was hungry for company and fussy about props.

West House was sold in 2011, and most of its contents were auctioned, but he took many possessions to his new home, a flat in nearby Cheyne Walk, which are now being sold.
Highlights from the auction are a 17th century Flemish historical tapestry depicting a battle scene (estimate £2,000-£4,000) and a large chesterfield style sofa.

Auctioneer William Pasfield says:'"We are absolutely thrilled that we are selling the iconic furniture, paintings, furnishings and works of art admired by many Withnail and I fans over the years. It is a great opportunity to recreate Uncle Monty's eccentric style in your own home.'

The catalogue will be available to view online from February 11 and at the West Sussex auction house on February 18, 19, 21 and 22. Bellmans say 'all are welcome to come and join us – with the opportunity for a Withnail selfie on the sofa'.
More details are here.
Published: 19 Jan 2022
What do you think?