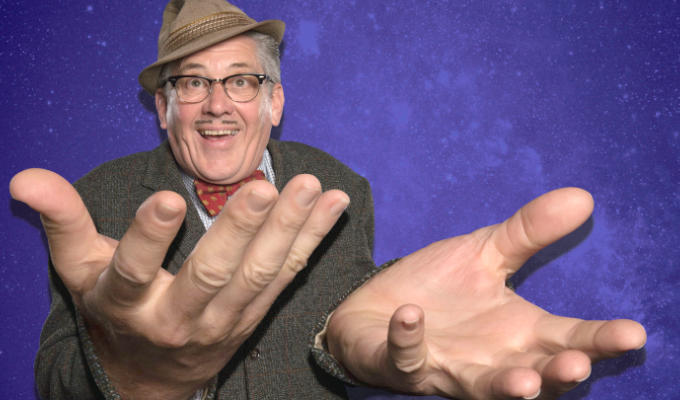 A miscount!
It's a story of confusion and crossed wires that's perhaps entirely appropriate to Count Arthur Strong himself…
Chortle yesterday reported that the perpetually befuddled alter-ego of Steve Delaney was making five new episodes of his self-titled sitcom for Radio 4 – which would have marked his first full series for the channel in a decade.
But it turns out not to be true. For while the scatterbrained old thespian WILL be back for another special on Christmas Eve, it's just a one-off, as per usual.
The story was – not unreasonably – based on an official BBC announcement which said: 'Count Arthur Strong, showbusiness legend, raconteur, and lecturer extraordinaire plans to bring his popular sitcom back to the airwaves with his radio repertory company for a series of five episodes, one of which will include his regular Christmas frivolity.'
But there is, sadly, going to be just the one episode – revolving around Arthur's attempts to keep his job as Santa Claus in the local department store.
The one-off has already been recorded at the Barnfield Theatre in Exeter by producers Komedia Entertainment, as our pictures show.
Delaney has been performing as Count Arthur Strong since the late 1990s. The character became a cult hit on the Edinburgh Fringe, and then started making regular appearances on Mark Radcliffe's Radio 2 show.
This led to his own sitcom on BBC Radio 4, where it has notched up eight series and nine specials. In 2013 the character stepped up to TV for three series, first on BBC Two then on to BBC One.
This year's festive episode airs on Radio 4 at 11.30am on December 24.
Published: 26 Nov 2021
Recent Punching Up
What do you think?