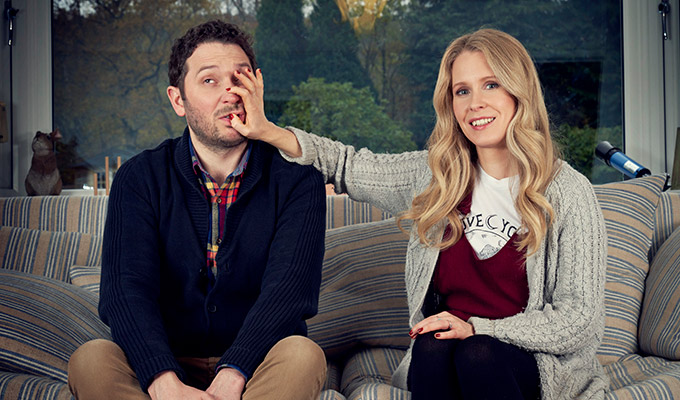 Lucy Beaumont: My bizarre first date with Jon Richardson
Lucy Beaumont has revealed the moment she met husband-to-be Jon Richardson... and the rather creepy postscript to their first date.
She was a newish stand-up when she met the TV comedian at the Outside The Box comedy club at the The Fighting Cocks pub in Kingston, South West London.
In her new memoirs, Drinking Custard: The Diary of a Confused Mum, Beaumont recalls: 'I felt someone's presence behind me. I nearly fainted; honestly my heart was beating like the clappers as I was sure Jon knew I fancied him.'
A couple of weeks later they went on their first proper date, but Beaumont recalled: 'At the end, something quite weird happened.
'Jon dropped me off in his car to the train station and we swapped phone numbers.
'He gave me his number and I rang his phone so he'd have mine.
'Lo and behold, via Bluetooth, on his dashboard in big LED letters flashed 'MY WIFE'. I have never got out of a car so fast.
'I rang my friend Jackie and she told me very calmly that he must be a psychopath and to leave London immediately and come back and live in Hull with her again.'
Luckily, she did not take that advice, and they married in 2014.
Published: 12 Oct 2021
What do you think?