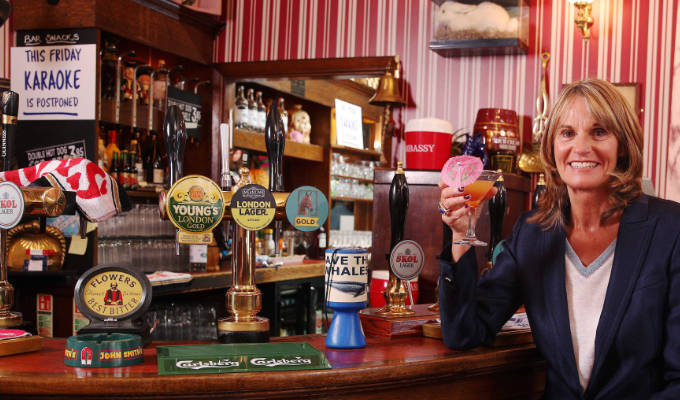 The Nag's Head opens for business
Only Fools & Horses star Gwyneth Strong, who played Rodney's wife Cassandra, has opened a recreation of the sitcom's Nags Head pub in London.
The pop-up marks the 40th anniversary of the comedy, and features the striped wallpaper, chequered floor, framed pictures, stuffed rabbit, horse bronzes and trinkets from Del and Rodney's local boozer.
Patrons can buy a pint or a crème 'de la' menthe at the 1981 price of 83p – along with 1980s bar snacks such as pork scratchings, scampi fries and cheeselets.
The pub is only open until Saturday and fans can apply for free entrance tickets here. Sadly visits are limited to 45 minutes.
Strong said: 'I can't believe it's been 40 years since the show first aired. There is such a loyal fan base and they are going to love this, it's like going back in time and being back in the original pub.'
The pop-up pub kicks off the Gold channel's Only Fools and Horses 40th anniversary celebrations of the show, starting by airing the very first episode of the smash hit show at 8.30pm next Wednesday – the same date and time that it first aired back in 1981.
Published: 2 Sep 2021
Recent Punching Up
What do you think?