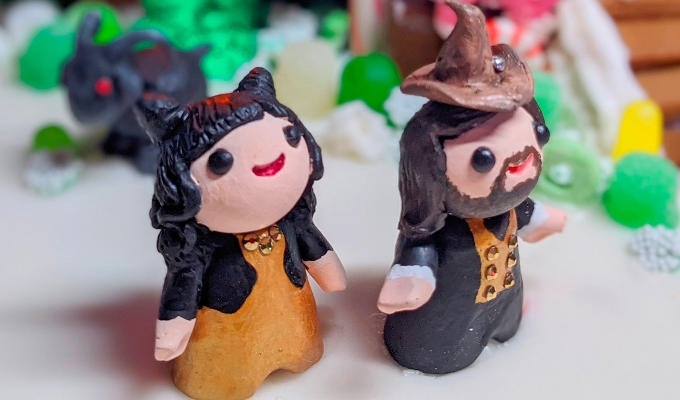 Vampires worth a bite...
Here are some vampires that look good enough to sink your teeth into…
A fan of What We Do In The Shadows has created edible versions of the comedy series' characters – and a gingerbread version of the house they all share.
Above are Nadja and Laszlo, as played by Natasia Demetriou and Matt Berry – while Kayvan Novak's Nandor. Harvey Guillén's Guillermo, Mark Proksch's Colin are also portrayed.
This year's gingerbread house homage was to "What We Do In The Shadows" (the TV series, although of course I love the movie as well). #wwdits #whatwedointheshadows #gingerbreadhouse pic.twitter.com/PuHnOtcNc8

— Jenny Sparks (@SparkyRobot) January 2, 2021
Even goat Black Peter and Mark Hamill's breakout character Jim are depicted in the confectionary creation put together by San Francisco game developer and all-round crafts wizz Jenny Sparks.
Colin, Nandor & Jim (@HamillHimself) pic.twitter.com/CDjpTm2jsw

— Jenny Sparks (@SparkyRobot) January 2, 2021
Her work, as posted on Twitter, attracted the attention of Jemaine Clement, the Flight Of The Concords comedian who directed, wrote and co-starred in the movie the BBC Two series is based on.
And while he said the word was 'so cute', he had one criticism: 'Hard to make out the vulva garden from these pictures'
That's a reference to the topiaries Laszlo showed off in a 2009 episode.
Nadja & Laszlo, Guillermo (@HARVEYGUILLEN) & Black Peter pic.twitter.com/PZzxcD1GK0

— Jenny Sparks (@SparkyRobot) January 2, 2021
Published: 6 Jan 2021
Recent Punching Up
What do you think?