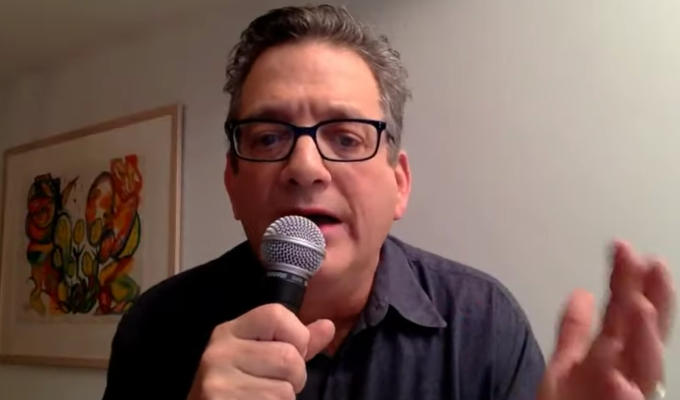 Why are horrible comedians getting so rich?
Stand-up Andy Kindler has lashed out at comedians who become right-week commentators in his annual State Of The Industry address.
The American comic made his annual roast as part of the virtual Just For Laughs festival offerings, put online over this weekend in lieu of a physical event in Montreal.
He joked that it was the '25th anniversary of this speech and the 15th since anybody cared' and that 'I'm a Method actor and my method is usually desperation'
And of working via Zoom he quipped: 'My wife was worried I might get thrown not being able to hear the laughs - that's how long ago it's been since she's seen my work.'
Away from the trademark self-deprecation, one of his themes was how some comics had become wealthy by pandering to a dangerously right-wing audience.
'I missed the days when comedy was just offensive quality-wise,' he said. 'Hack, but not dangerously hack. Carrot Top was not signalling to white supremacy.
'I apologise for Jay Leno for finding his act annoying. I should have been happy with it because was not encouraging Covid-19 deniers.
'How is it you can be the worst stand-up comic in the world and then make $1billion in some other field? Joe Rogan was the absolute… his act was horrible, He parlayed it into a $100million deal. If it wasn't for Trump, Joe Rogan might have been the dumbest person ever to make $100million.'
'Adam Carolla, because he's terrible at stand-up, we have to deal with his "why can't Nazis speak on college campuses" shtick.'
On other scandals that have ripped through the US comedy industry this year, he joked: 'Everybody is going after Chris D'Elia the person, but let's not forget he was also a horrible comedian. What he was doing on stage was a crime'
And after insisting he was 'sticking with Woody Allen whatever anybody says about him' he pretended he'd got a poor reaction from the audience, then asking: 'Too Soon-Yi?'
His speech also targeted such comedy icons as Larry David and Chris Rock.
He said: 'I did see the last season of Curb Your Enthusiasm and I've got to sat it was pretty, pretty, pretty, pretty, pretty, pretty, pretty, pretty, pretty, pretty, pretty, pretty, pretty, pretty, pretty, pretty, over-rated.'
And 'I saw Chris Rock on SNL last week and you can tell he was a little rusty because he was only repeating his premises twice.'
Turning his attention to late-night talk show hosts, he said Stephen Colbert's 'Trump impression is not nearly as good as the amount he uses it' and off the Jimmy Kimmel blackface scandal, he said: ' White people in blackface is reprensible but being one half the creator of The Man Show is unforgivable.'
Just For Laughs has offered a range of talks online this weekend via its YouTube channel - here's Kindler's address in full:
Published: 11 Oct 2020
What do you think?