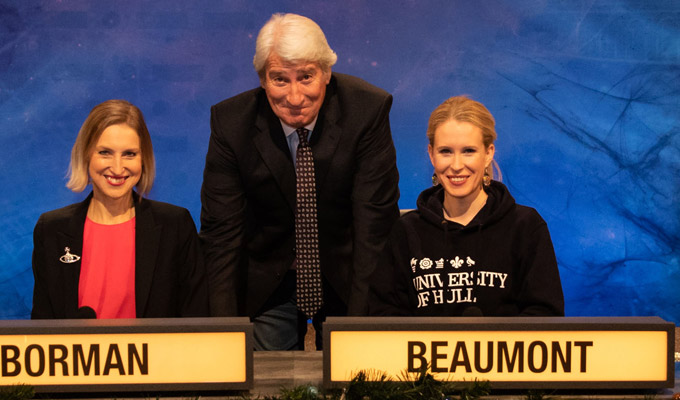 Clean laughs
Lucy Beaumont got a laugh on University Challenge last night - but not one she was expected.
The studio audience chuckled when the comic said she had an NVQ in cleaning, thinking it was a joke
But she genuinely has the qualification, along with a BA in drama from the University of Hull, whose team she was captaining.
Several viewers took to twitter to react to the 'embarrassing, rude' reaction from the audience:
Did everyone just laugh when Lucy Beaumont said she had an NVQ in cleaning? On Christmas University Challenge? Real indictment on the audience if so. #UniversityChallenge

— Fran🌹 (@fran_j_collins) December 26, 2019
latest this-country-is-doomed news: the christmas university challenge audience actually laughed when Lucy Beaumont said she had an nvq in cleaning

— Martha Shearer 🌹 (@MarthaPShearer) December 26, 2019
Audience laughing at the idea of an NVQ in Cleaning on #UniversityChallenge is embarrassing, rude and speaks volumes. Get your shit together.

— Ellen Gibson (@ellenrgibson) December 26, 2019
However Beaumont herself was not offended, tweeting: 'Well the two together sound funny, the audience werent elitest just normal'.
And she had the last laugh – as her team triumphed over Liverpool University, 150-75. Also representing Hull were TV historian Dr Tracy Borman, author Joanna Nadin and Professor of Physics Matthew Halsall.
Published: 27 Dec 2019
What do you think?