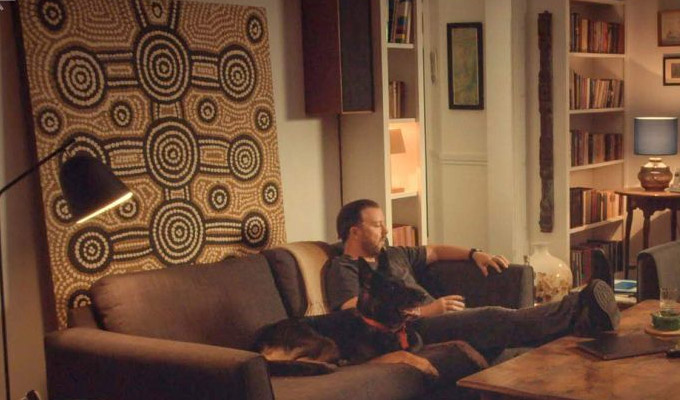 Ricky Gervais makes amends in art row
Ricky Gervais has made changes to the new series of After Life after being accused of cultural appropriation.
The comic had faced a backlash over a painting hanging in the living room of his character, Tony Johnson, which was an unauthorised copy of a celebrated Indigenous Australian artwork.
Gervais's production company, Derek Productions, have now agreed to compensate Aboriginal artist Warlimpirrnga Tjapaltjarri and display his work in the second series, which wrapped filming this week.
An investigation by the Australian Copyright Agency and its UK counterpart found the dot painting in After Life's first season bore a striking resemblance to Tjapaltjarri's 1987 work Tingarri Dreaming. However, the prop by British artist Timna Woollard was painted a decade later.
She apologised when the controversy erupted in March, saying she was not as alert to the sensitivities around Indigenous art at the time and would never make such a painting again.
Indigenous art predates the colonisation of Australia by tens of thousands of years and can be used to transmit sacred customs and law. In some instances, only men or women may depict certain knowledge, known as 'men's business' or 'women's business'.
Adam Suckling, chief executive of the Copyright Agency, said the second season of After Life would now feature an authorised print of Tingarri Dreaming. The painting is currently part of the National Gallery of Victoria's collection.
Mr Suckling told the Sydney Morning Herald that Derek Productions had been 'professional and constructive.
'It's a great win for everyone. It's a win for the artist. It's a win for After Life because they get access to this great painting. And it's a win for audiences because they get to see this stunning piece of art. You should respect the creativity of all artists when you reuse their work.'
Paul Sweeney of Papunya Tula Artists, who represents Mr Tjapaltjarri, said in a statement he was pleased with the outcome.
'It's important that [Mr Tjapaltjarri's] work and the work of all Australian Aboriginal and Torres Strait Islander artists is acknowledged and respected,' he said.
The second season of After Life is scheduled to air on Netflix next year.
Published: 29 Oct 2019
What do you think?