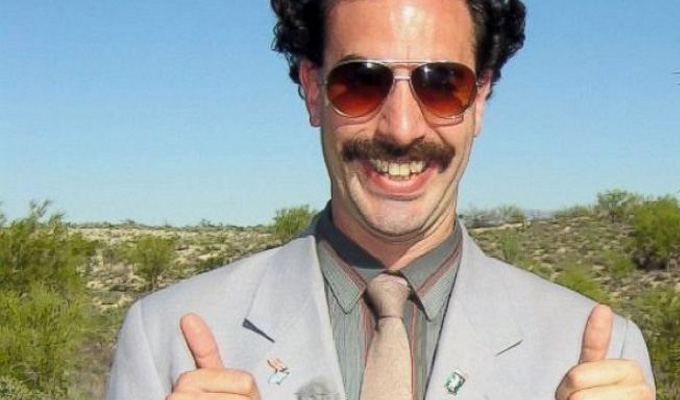 When Sacha Baron Cohen upset the wrong guy...
Former world heavyweight boxing champion Wladimir Klitschko once intimidated Sacha Baron Cohen for mocking Kazakhstan in Borat.
The comic revealed how he was terrified by the incident – but when telling the story in a recent interview. he mixed Kazakh-born Klitschko up with his older brother Vitali, himself a former world heavyweight champion.
Baron Cohen was in a restaurant with his wife Isla Fisher at around the time the 2006 film came out when someone came up to him and said: 'Klitschko wants to speak to you.'
Baron Cohen told Philippine Daily Inquirer: 'I went over to the table and Vitali grabbed my hand. He was with three other boxers. This was when he was a world champion.
'I could tell by the way he grabbed my hand that this was not going to be fun. I couldn't get my hand away. He goes, "You have humiliated my country. You humiliated Kazakhstan, and you humiliated me."
'I go, "There was no intention." I tried to pull my hand away and he goes, "No, no, no, you don't go."
'He goes, "You humiliated me, and it's time for revenge."
'My wife (Isla Fisher) was there. She saw that I was in trouble. She goes, "Hey, I am a fan. Can you sign this?" He goes, "Go away." And he's holding my hand, squeezing it for about two minutes.
'I'm thinking, how do I get away? I'm a very weak man. How do I fight the heavyweight boxing champion of the world, particularly when he's surrounded by three people who are bigger than him? After about two minutes, he started laughing and he was basically tricking me.'
Now Klitschko has mocked Baron Cohen again, for getting the thwo heavyweight champs mixed up,
In an Instagram Q&A the boxer – now a Ukrainian – said: 'I love Borat and Sacha's a great pranker… but I pranked the pranker.
#klitschkoscorner #episode2: Thanks for your questions! Hope you enjoy my answers, @Gavsimms1 & @goggs87! Who wants to know the background of my answer to question 5, ask @SachaBaronCohen or follow: https://t.co/SPtFanhw2y
Anything else you would like to know? Just ask me…
2/2 pic.twitter.com/CNQ4ZXOzZ5

— Klitschko (@Klitschko) September 2, 2019
'But Sacha I think got punched in the face because he doesn't know who's Vitali and who I am.
'Iin this article he's saying that Vitali pranked him. But it was me. I did it. And I know where you live. I'm going to get you, Sacha.'
Published: 10 Sep 2019
Recent Punching Up
What do you think?