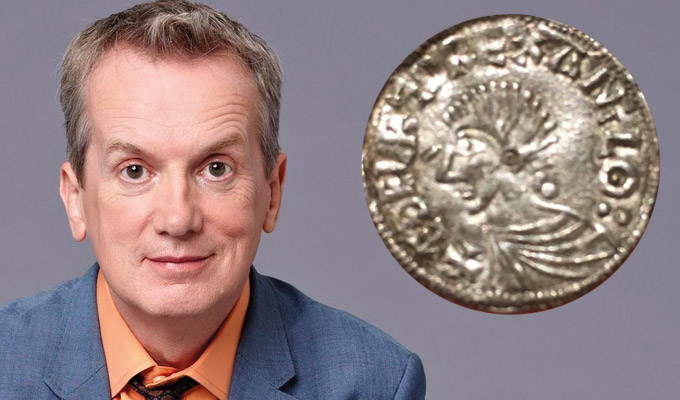 Frank Skinner's coining it in
Frank Skinner famously lost millions in the 2007 financial crisis.
Maybe that's why he's now investing in a different currency – ancient British coins.
He told Sky News: 'I just spent a few hundred quid on an Anglo-Saxon coin with Ethelred the Unready on it.
'Now, I don't know if the Kardashians are going in for that that kind of bling, but it made me happy.'
Skinner has long had a fascination with the period and wears a medal showing 7th Century Christian missionary St Boniface around his neck.
Last month the comic was interviewed by the Financial Times at the exhibition of Sutton Hoo artefacts at the British Museum.
He told the newspaper how the warriors had a reputation for being 'blingy'.
'They would call their chieftain 'the ring giver' because if they did something good he'd gift them a gold ring, and they used to wear them on their forearms,' he said. 'It's great security, just wearing your wealth. Specially if you've got an enormous sword with you at the time.'
At the weekend, Skinner also talked about his new coin on his Absolute Radio show, and posted a picture of it on Instagram.
Published: 8 Aug 2019
What do you think?