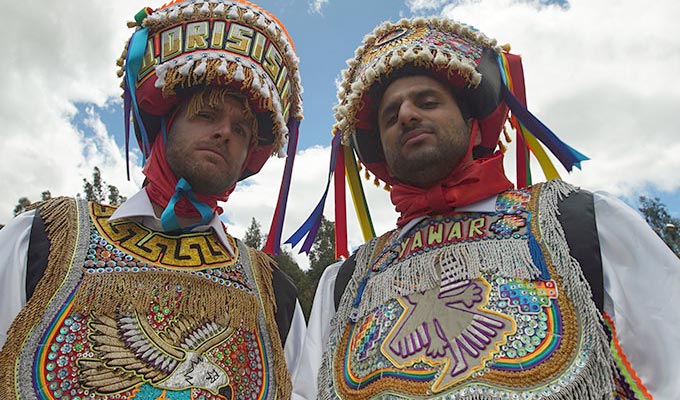 Nish & Joel will be back for shits and giggles
Is the bottom falling out of comedians' travelogues?
Even Joel Dommett admits that there's a glut of them on TV - and he's responsible for one of them.
Now the comic has revealed that after visiting some of the most remote people on the planet for Joel & Nish Vs The World - it will return for a third series, but in reduced circumstances.
Dommett told Richard Herring on his RHLSTP podcast that he and Nish Kumar found the experience 'amazing [because] we go to the most insane places'.
But he disclosed that 'on the third series they've told us that, budgetary-wise, we won't be going to such insane places. We may be staying in crazy Europe.'
However, there could be another reason for them exploring less exotic locales.
Dommett cited the episode in which he ran an ultramarathon with the Tarahumara tribe in Mexico as his favourite of the two series. And that's despite the fact he was running while suffering diarrhoea from consuming too much of the locals' energy-boosting drink pinole.
'In every episode, someone in the cast or crew shits themselves profusely, because obviously the places you go to' he explained, before elaborating that attending the drunken athletics in Peru last series, was 'just one of the funniest moments I've ever experienced in my life.'
'We'd just set up this shot and there was this beautiful crucifix in the back, overseeing this huge vista, beautiful mountains, it took hours to set up. And we start walking down and I go: "So where are we Nish?"
'And he goes "We're in Peru Joel" and just goes "Oh oh oh, ooh" and runs away and shits himself in the bushes. And you can just hear on the microphone, he's like "Aaaargggghhh!"
'They kept that in the episode because that was the funniest thing. You can't get funnier than someone shitting themselves in the introduction.'
Published: 17 May 2019
What do you think?