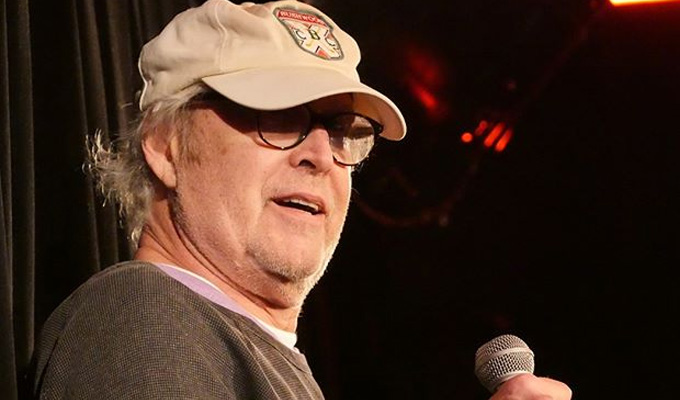 Chevy Chase made a surprise appearance at a comedy club... and it was 'bizarre'
Chevy Chase made a surprise appearance at the Los Angeles Comedy Store at the weekend – but one comic on the bill described his slot 'bizarre' and 'sad'.
According to Marc Maron, the 75-year-old star took to the stage with no plan other than to field questions from the audience.
Speaking on his hit WTF podcast, Maron, below said: 'For some reason at all Chevy Chase got on stage with no act at all. Did nothing.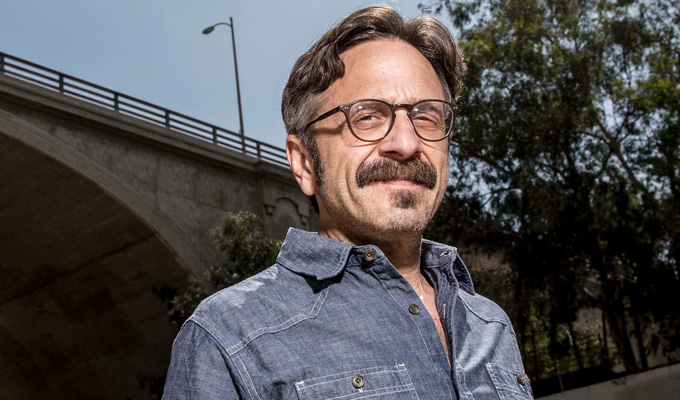 'It's sort of weird to see him. I used to love him when I was a kid but you know, over time you start to realise, man, he seems to be a kind of cranky, nasty old fuck.
'I saw him sitting at the back of the room. I didn't know why. I thought maybe he was just lonely and wanted to come watch some comedy and judge.
'But he got up there and took some questions for about 20 minutes.
'It was up and down but it was one of those things where it was like, why did that just happen? I guess he is Chevy Chase, he can get up there and do what he needs to do. But why did he want to do it? I don't know
'It was very bizarre. And it happened. I saw it. I was there. I was wandering around the back of the room going, "What's going on? What is happening right now? 75-year-old Chevy Chase is up there asking people to ask him questions?"
'I think people were happy to see him… It was not life-changing, if anything it was slightly sad.'
The club revealed Chase's appearance on social media, including a short clip of him being introduced on to the stage – but no audience member appears to have been moved to post anything.
The star has an long-standing reputation for being difficult to work with, dating from his days at Saturday Night Live when he fell out with most of his co-stars and its creator Lorne Michaels.
More recently he feuded with showrunner Dan Harmon when he was a cast member of Community, amid accusations he made racially charged jibes about co-star Donald Glover.
His latest film, The Last Laugh, has just been released on Netflix to lukewarm reviews.
A Surprise Guest drop in from Chevy Chase! #thecomedystore @kyledunnigan @JeffScott101 @ChevyChaseToGo pic.twitter.com/iYLxV1Ke2o

— The Comedy Store (@TheComedyStore) January 27, 2019
Published: 30 Jan 2019
What do you think?