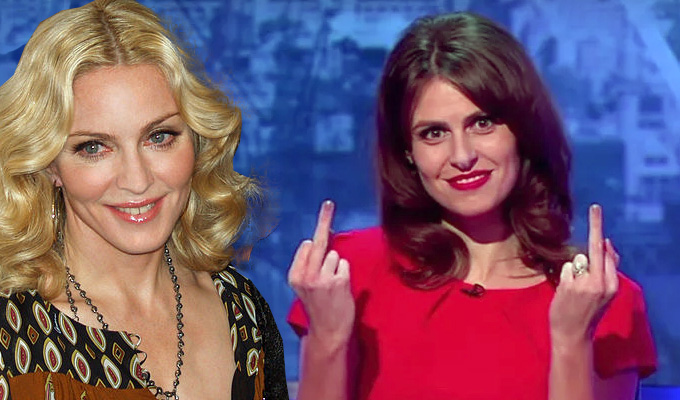 The Mash Report's in Vogue with Madonna
BBC Two's Mash Report has a major new celebrity fan – Madonna.
The superstar has tweeted a clip from the satirical show to her 2.3million Twitter followers today, suggesting it reflected her mood every day.
In the footage, Ellie Taylor introduces a spoof news clip with the headline: 'Women have told everyone to just fuck off.
'Tired of being judged for choosing to have children, or not have children, to have children and go back to work, to have children and not go back to work, for being too thin, too fat, too pushy, too unambitious, too hot, not hot enough, or even for just daring to be alive women have stressed that everyone can go fuck themselves.'
She then introduces a report from Jason Forbes in character of Nathan Muir, saying: 'Apparently a man is the best person to report this story.'
He said: 'If you have a vagina people have the right to judge you on every single thing you do, even what you do with your vagina.'
Madonna has this week been scrutinised by the media for having wrinkle-free skin.
#mood #today #tomorrow and #forever 🖕🏼 #bbc2 pic.twitter.com/BmhSsNTXgG

— Madonna (@Madonna) January 15, 2019
Published: 16 Jan 2019
What do you think?