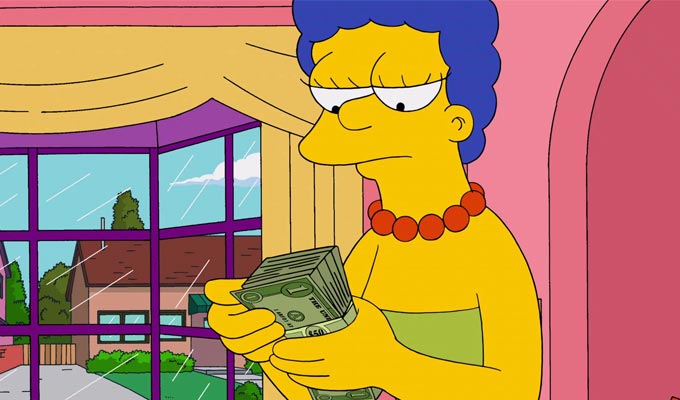 How The Simpsons have lost an awful lot of D'oh!
Homer Simpson's always struggled to make ends meet as a lazy nuclear safety officer with five mouths – including his own rather hungry one – to feed.
Yet the family could be sitting on a £277 billion fortune had they not made some disastrous financial decisions – and has some plain bad luck – over the past 29 seasons.
The losses started small, with Homer denied an estimated £9,000 Christmas bonus in the very first episode.
But the biggest missed windfall came in season nine episode 20, when Homer's plan to equally split a $1trillion note with Mr Burns and Waylon Smithers goes awry, when Fidel Castro steals it.
If they had kept hold of the money it would make them the third-richest family in the world, behind only the House of Saud (£1.1billion) and the Rothschilds (estimated fortune anywhere between £269billion and £770billion)
Other big financial mistakes include Bart returning to his family rather than becoming Burns' heir, costing £12billion; Homer refusing to sell the rights to Tomacco, allowing the Laramie Cigarette executives to steal them, costing £114m; and the State Department taking Abe Simpson's valuable paintings.
The numbers were crunched by the financial planners at GiffGaff Gameplan – who previously estimated how much of a deficit the Sex And The City Girls were running – using reasonable estimates when no figures were mentioned.
And the good news for the family is that they're getting more financially responsible, losing out on just £7,600 in the past four seasons..
Published: 31 Oct 2018
Recent Punching Up
What do you think?