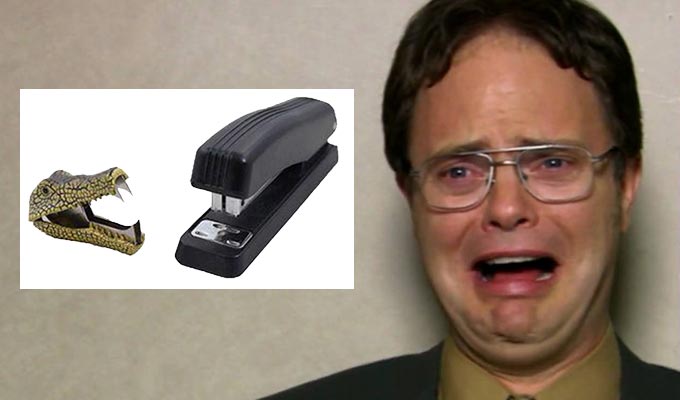 For all your Office supplies...
Would you pay more than £750 for a stapler? What if it once belonged to Dwight Schultz on the US version of The Office.
That's the current best bid for the common-or-garden stationery item, complete with a rather natty crocodile staple remover, in an online auction of props from the sitcom.
And in case you're wondering – no, it's not even the stapler that was entombed in jelly in a famous prank from the show.
A total of 500 items from the NBC sitcom are currently going under the virtual hammer, including such big-ticket items as the massive Dunder Mifflin sign from outside the building and the familiar reception desk - both currently standing at $5,000.
Michael Scott's desk is currently at $4,500, and the blue neon beer sign that was such a talking point at his dinner party is $3,400; while Dwight's Sales Associates Association Award 2008 currently stands at $1,400.
At the other end of the scale such as Nellie's ordinary computer mouse, Angela's water bottle and Erin's highlighters are just $50.
But all the prices could still rise as the auction – here – doesn't close until next Friday. But all winning bidders have to pay a 24 per cent buyers' premium on top of the price, too.
Published: 27 Sep 2018
What do you think?