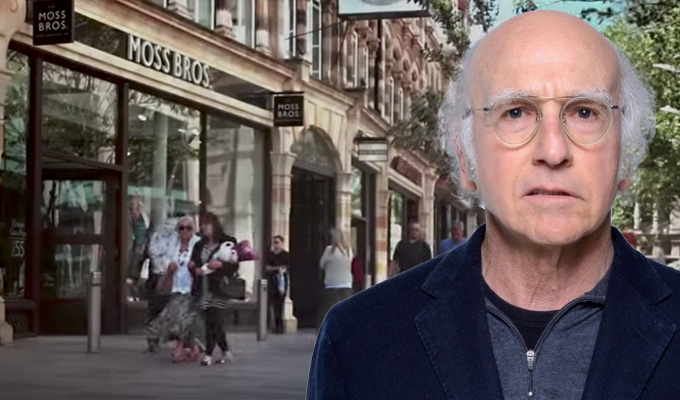 How did Cardiff end up in Curb Your Enthusiasm?
Curb Your Enthusiasm always attracts the best guest stars.
But this week's episode featured the most unexpected surprise appearance yet – when the city of Cardiff made a bizarre appearance.
Larry David was visiting his therapist, played by Breaking Bad's Bryan Cranston, when he started complaining about the uncomfortable chair. So the pair went shopping in Los Angeles.
But instead of a cutaway to the Californian town where the comedy is shot, producers chose an image of the Moss Bros shop on the Hayes, in Cardiff town centre
Understandably viewers were gobsmacked by the appearance, and took to Twitter to share their bemusement and the hilarity of The Hayes standing in for the swanky shopping districts in California.
'A shot of Cardiff in the middle of #CurbYourEnthusiasm??? Freaked me out!,' said Joanne Mahoney.
And Daniel Jones said: 'Wait.. was that a two second shot of the Hayes in Cardiff on last night's episode of #CurbYourEnthusiasm, or am I going mad?'
The HBO show aired on Sky Atlantic on Monday night.
Published: 25 Oct 2017
What do you think?