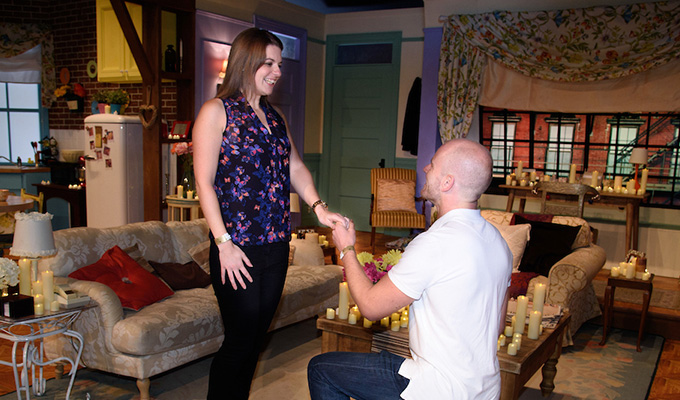 I'll be there for you
Where could be a more romantic place to get engaged than on a replica of the set from Friends?
Certainly nowhere else for Adam Fishlock, who proposed to his Friends-obsessed girlfriend Claire Brierley at the exhibition dedicated to the sitcom currently at Clissold Park in North London.
He replicated the candle-lit moment in which Monica proposes to Chandler on the show, secretly filling the replica of Monica's apartment with hundreds of candles before the FriendsFest opened to the public.
Adam said: 'We both absolutely love Friends, and we came to the very first FriendsFest within our first month of dating. When I saw that FriendsFest was back for a third year I knew that it would be the perfect place to propose to Claire as the event means so much to us both.'
Following the proposal, Claire said: 'Friendsfest was one of our first memories together so it was so special when I walked through the door to Monica's apartment to see it had been filled with candles, just like the Friends episode.
'When Adam appeared from around the corner, went down on one knee, and proposed I couldn't believe he had done all this for me. It was such a magical moment, one that we will remember forever!'
Here's the original moment from Friends:
Published: 19 Sep 2017
Recent Punching Up
What do you think?