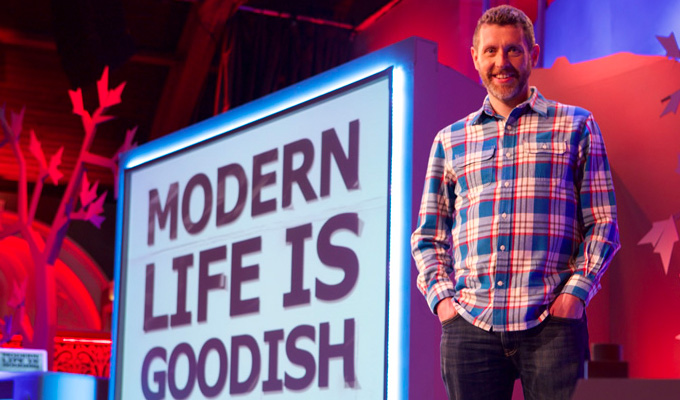 That gag's been coined before!
The joke that TV channel Dave today named as the best on the Fringe has already been told on one of the broadcaster's most popular shows.
And when Dave Gorman cracked it on Modern Life Is Goodish, he was so apologetic about its quality that he felt he had to issue a warning.
Ken Cheng today claimed the joke of the Fringe for his line: 'I'm not a fan of the new pound coin, but then again, I hate all change'. He had tweeted it as long ago as March 2014, when the new design was announced, along with a lot of other Twitter wags.
Gorman also used the line series two, episode eight of his show, which first aired in October 2014 – and said it was 'unavoidable'.
At the start of the episode he said: 'Because later on I am going to tell a joke that uses the words "fear change" and I want you to know that don't want to tell that joke. I'm only telling that joke accidentally. It is an unavoidable joke. Please do not judge me for that joke.'
About 20 minutes later, talk turned to the new coin, and he said: 'Some people were upset, of course they were, because some people'– and then he turned knowingly to the camera to say, cheesily. 'Fear change.'
As the audience groaned, Gorman reacted. 'Come on! We talked about this! Do not judge me for that! I gave you a warning. I said I'd be using the phrase "fear change" in a joke that I didn't want to do. I've got no choice.'
He then used a PowerPoint slide to explain how he had to do the line. 'I want to say some people are afraid when things change and in this particular instance, one of the things that is changing is something that is commonly known as a piece of change. I am trapped in a quandary!'
The show then moved on to a Found Poem made up of online comments about the new coin.
And in a further coincidence, Dave is scheduled to repeat that very episode at 8pm tonight. Although if you can't wait, it is available on demand here.
• The staff at Pimlico Underground station in London have been accused of joke theft – after posting an uncredited gag from John-Luke Roberts' Fringe show on their information board:

Now Pimlico station is just stealing @jlukeroberts' jokes. Will their crimes ever cease? pic.twitter.com/vJRsuZMQs0

— Dora Somerville (@doraexploring) August 22, 2017
Published: 22 Aug 2017
Recent Punching Up
What do you think?