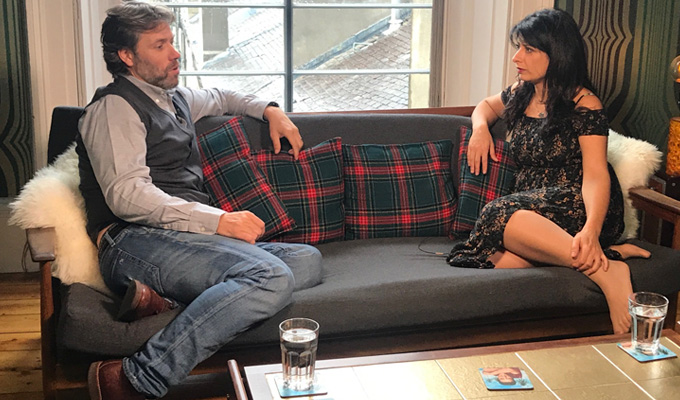 Shappi Khorsandi: I'm bisexual
Shappi Khorsandi has revealed that she is bisexual.
The comic 'outed' herself on John Bishop on his In Conversation With… series which is being made for the W channel and broadcast on Facebook Live from the Edinburgh Fringe.
They were speaking about her novel, Nina Is Not OK, in which the lead character is a bisexual 18-year-old with alcohol addiction issues, based on Khorsandi's experiences at the time.
And during their conversation she revealed that Nina's sexuality was also based on her.
'I think it's a lot easier to come out as bisexual now but when I was her age, straight friends of mine, it would jolt them, even those that weed on gay pride parades. 'Oh, are you bisexual are you going to fancy me now?" So you sort of go back in the closet. And don't mention it again for another decade.
'I don't think I've mentioned it in publicly until now.'
Later, she explained that she had only once been out with a woman but that 'my life would have been different ' if bisexuality had been more accepted when she was a teenager.
'I can't believe I'm talking about this publicly, but a few years ago I had a girlfriend for the first time and that was the only one I've ever had,' she said.
The comic added that her male friends were 'great' but girlfriends thought she might now be attracted them. 'It makes you feel a bit creepy.,' she said, adding: 'The other thing is female friends hitting on you.'
Here's the full show, with Khorsandi's revelation around the 42-minute mark.
Published: 18 Aug 2017
Recent Punching Up
What do you think?