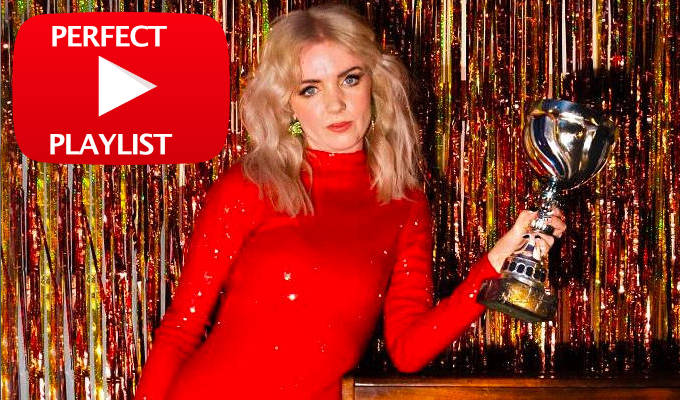 'When I grow up I want to be Sharon Horgan'
Alexandra Haddow is at the Edinburgh Fringe with her debut stand-up show Not My Finest Hour at Pleasance Courtyard at 18:55. Here she shares some of her comedy favourites…
---
Dylan Moran: Monster
I had no idea who Dylan Moran was until I was about 16. My dad adn I were flicking through the channels late one night and stumbled across this. I thought and still do think it might be one of the funniest, most genius things I've ever seen in my life. Every word is hilarious.
I gigged with him last year and tried to play it so cool that I basically seemed mute.
Still Game
Being from Corby, aka 'Little Scotland' in the middle of England, and having Scottish family means you're brought up on Scottish sketch show Chewin' The Fat and the brilliant spin-off, Still Game.
The sitcom follows a load of Scottish actors dressed up as old people in the fictional Glaswegian suburb of Craiglang. It's about almost nothing and it's one of the best sitcoms ever written.
Pulling
When I grow up I want to be Sharon Horgan. This is the funniest show in the world and follows Donna just after splitting up with her long-term, steady, safe, boyfriend Carl, and moving in with two mad friends, thinking she's gonna have the time of her life being single.
We've all known every single character in this show at one point. Or I have at least. It's two series and a Christmas special, which is the perfect length of any sitcom.
Catherine Cohen: The Twist? She's Gorgeous!
Cat Cohen was the last show I went to watch before lockdown hit and it was so good it made me think 'What's the point of doing comedy?' I was trying to mentally note down everything she said not only because it was funny but because she is so WISE.
I've got her poetry book as well and I'm always trying to get her to follow me back on Twitter and Instagram. I am extremely cool.
Ed Jones' sketches
Ed Jones is one of the funniest people on Instagram (and no doubt in real life as well). My boyfriend amd I went on holiday recently and were so hungover one day that we spent more time than is reasonable comfort-watching his sketches and quoting them to each other for the rest of the trip.
Check out his film trailers if you've never seen him.
Billy Connolly
I really think this guy is gonna be big. You should check him out.
It pains me that I'll probably never even be able to blag being on the same bill as the Big Yin after his voice was the soundtrack to every breakup I've ever had. (Some people listen to Taylor Swift, I put Billy Connolly clips on YouTube).
I know everyone probably says Billy but let me in the club as well.
Published: 21 Aug 2023