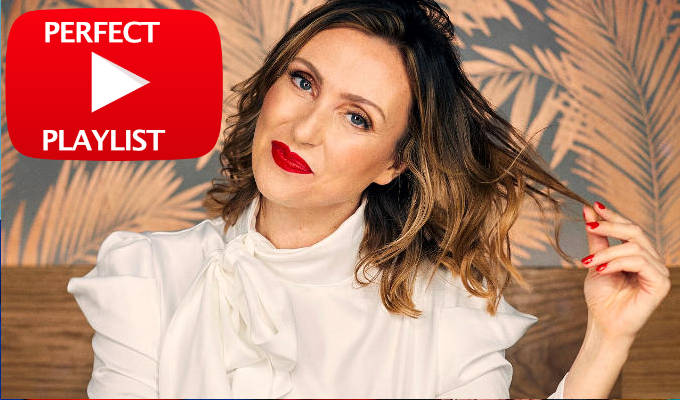 Chelsea Handler's everything I aspire to be...
Eleanor Conway is at the Edinburgh Fringe performing her show Talk Dirty To Me at 7pm at The Three Sisters, part of the Laughing Horse Free Festival. Here she shares her Perfect Playlist of comedy favourites….
---
Billy Eichner
Everyone is doing street interviews these days, including myself, but Billy Eichner screaming 'fuck you' at New Yorkers, will never not be funny. It's a vibe that really encapsulates New York - even Londoners aren't that rude.
The more recent episodes had celebrities in tow and I'll be honest, the celebs always seemed like an afterthought. The real star was always Billy.
Ali Wong
I love her. She keeps it real. When I watched her 2016 special Baby Cobra it honestly changed what I thought could be done on stage.
The experience of being a woman is not fun a lot of the time and women get sold an idea that motherhood is this lovely poetic thing and here's this tiny pregnant woman in a skintight mini dress heavily pregnant doing jokes about the inequality of motherhood.
I think the realness resonated with women including myself.
Bottom
I love toilet humour and unhinged people. In real life that's got me into trouble but when Rik Mayall and Ade Edmondson do it in Bottom - it's Childlike without being childish, unruly and chaotic and just perfect.
Maybe that's a reflection on my lack of maturity but I don't care. The slapstick fights remind me of the cartoons I watched growing up and are a masterclass in physical comedy.
Absolutely Fabulous
I never saw irresponsible women in media growing up, that's the space that men could hold but not women. Ab Fab felt fresh and feisty to watch as a young woman.
Women were always pitted against each other or were perfect and the bad behaviour these two got up to reminded me of me and my girlfriends, it gave me the licence to misbehave. Which I did.
The Mary Whitehouse Experience
I mean I love 1990s comedy, what can I say? This show, was THE show for me as a kid. We'd watch it on BBC 2 and come into the playground and repeat the catchphrases.
I've never laughed so much as a kid than shouting 'milky milky in the face of a classmate. It still makes me laugh today.
Chelsea Handler
Hands down brilliant. She's everything I aspire to be. Child-free, sex positive, single, in her 40s, hilarious and successful. She just doesn't give a shit.
She was one of the first women I saw talking about loving her child-free life. She's outspoken and she doesn't care if she's not liked by men, especially Republican ones. I love her.
Published: 22 Aug 2023