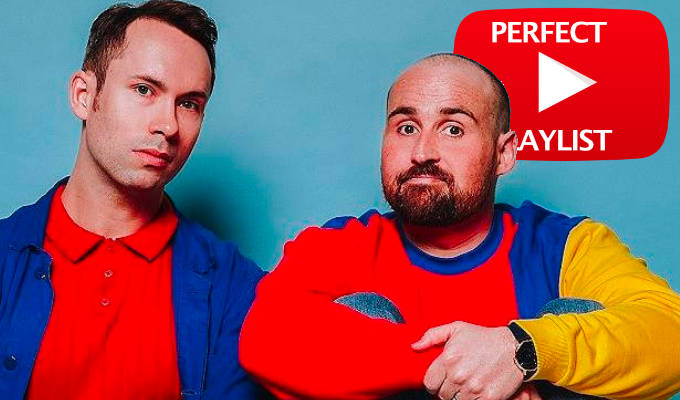 Our favourite shows all have something in common...
Hi guys! Max & Ivan here – wisely taking some time away from our brand new Edinburgh Fringe show Life, Choices (Pleasance Courtyard, 5.20pm) to write this promotional article.
Over our years touring the world we've been lucky enough to seen a massive array of brilliant comics performing shows that will stay with us forever – including Daniel Kitson in Daniel Kits-OFF, his daring fully nude-performance which he only performs on dates that are a prime number, and Richard Gadd's Gaddabout, an uplifting show in which the cheeky chappie takes a whimsical look at the differences between women and geezers.
As it's so hard to choose our top six, and we wouldn't want to leave anyone out – like Bridget Christie's phenomenal hour I'm Bridget Crispy, which lost none of its political heft despite Bridget being sponsored that year by Findus Crispy Pancakes™ - so, instead, we've decided to just randomly select six shows off the top of our head.
So yeah, here – completely arbitrarily – is our perfect playlist.
Max & Ivan are… Holmes & Watson
These two young comics really blew us away when we saw them in the Cellar in 2011. A twinkle in their eye, and a twinkle in their jokes if you know what I mean! The show is a real multi-character romp, and also I do seem to recall that both men are repped for voiceover work by The Joneses.
Max & Ivan are: Con Artists
So check it out, these guys are a comedy duo – Max is the taller one and Ivan even more so (except shorter). If you don't watch this show (in which they play every member of an Oceans 11-style gang pulling off an against-the-odds Vegas heist) the only con artist around here is…you! And the victim? Also you!
Actually, that sort of multi-character silliness would really fit in with the overall vibe of the show. PS. If it's silliness you're after, then you'll want to listen to Max & Ivan's podcast Sound Deals as well.
Max & Ivan: The Reunion
Something a bit left field for our third choice – a 'double-act' as opposed to a stand up! This pair (they're called Max & Ivan) vividly create a high school reunion – well worth checking out. They actually turned it into a Channel 4 Blap too, so give it a watch, and it's possible that the Blap (commissioned in 2017) might become a full series!
Max & Ivan: The End
Hate jokes? This one's not for you I'm afraid – it's crawling with 'em! Max once did the highest commercial bungee-jump in the world, but that didn't come up in this show. It's actually an audacious tale of a doomed town, with Max And Ivan (the two writer-performers) playing all the characters! It's dark and gripping – a bit like their otherwise totally different geopolitical comedy thriller Fugitives, which is also WELL worth a listen.
Max & Ivan: Our Story
Not sure if you've ever encountered the work of Max & Ivan (they perform together, as a pair) but a great place to start is with this little doozy of a show. They start to get a bit autobiographical here – it's all about how they met and their friendship blossomed. There's some stuff about Max's Wrestling past – which probably inspired their sitcom, Deep Heat, on ITVX!
Max & Ivan: Commitment
Crikey, just looked back across our previous choices and noticed a common recurring theme – each show has an ampersand in the title! How embarrassing. Anyhow, this show is by a UK-based comic pair 'Max' '&' 'Ivan', and it's a doozy of a show about how Max organised Ivan's stag weekend! Apparently they've got lots of other shows too (no idea), and a host of ideas ready for development, which can (and should!) be discussed with their agent Hannah Layton.
• Holmes & Watson, Con Artists, The Reunion, The End, and Our Story are all available to stream now on ITVX. Max & Ivan: Commitment will soon to be available to stream on YouTube.
Published: 20 Aug 2023