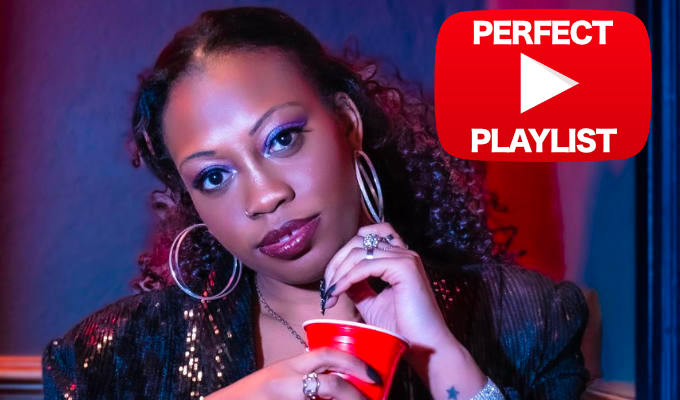 This is what sketch comedy is all about!
Fringe comedian Sikisa shares her Perfect Playlist...
Goodness Gracious Me
Asians on mainstream telly that weren't Gita and Sanjay on EastEnders mean this was definitely pioneering television.
But, for me, the show's success was that it was so well written that it can stand the test of time and is still funny today. It contained themes that were something everyone could relate to, whether it was regarding family, aspiration or cultural differences.
Going for an English is probably one of the most memorable sketches and the live version is so much fun to watch.
Kevin Hart: Let Me Explain
I had the joy of being able to watch this special at the O2, London. And it was awesome!
Kevin Hart is just an outstanding comic and even when he's not doing stand-up, he just has funny bones, The way Kevin is animated on the stage and draws people into his stories is so effortless.
His story about his relationship with his best friend is one of my favourites. I could watch this special over and over again.
Boomerang
This film, although classed as a romantic comedy, is HILARIOUS. Grace Jones is such an underrated actress who steals the movie.
With appearances from a young Halle Barry, Martin Lawrence (riding high from the success of Def Comedy Jam) and Chris Rock in his first movie role, the great thing about this was that it showed young black Americans in executive jobs and allowed Eddie Murphy to shine a light of other talented actors.
It was one of the first films I watched with a majority black cast which was eye-opening for me. They made a sort of sequel in the form of a TV show which was also entertaining.
The Fast Show
I grew up watching this show and for me this is what sketch comedy is all about. Iconic characters who people loved and so pacey that the jokes had to be quick and fast. Such a masterclass of how to do sketches well. I hope they do a reunion special soon.
The IT Crowd
One of my favourite sitcoms of a set of misfits is SO good. The chemistry between Chris O'Dowd, Richard Ayoade and Katherine Parkinson is so intriguing to watch. Clever but yet very relatable to anyone who has ever worked in an office. The funniest episode in my opinion had to be The Final Countdown, which I can watch again and again and still be belly laughing, it's immense.
London Hughes: To Catch a D*ck
Again, I had the honour of being able to see this show live at the Edinburgh Fringe in 2019 and I didn't want it to end. It watched admiringly as a fellow British, black, female comic came up on stage and just talked openly about sex as well as other subjects.
I love her confidence, her observations and how honest and open she is. I am in awe of her talents. Cannot wait to see what she does next.
• Sikisa's debut stand-up show, Life Of The Party, is at the Pleasance Courtyard Below at 8.25pm.
Published: 6 Aug 2022
What do you think?