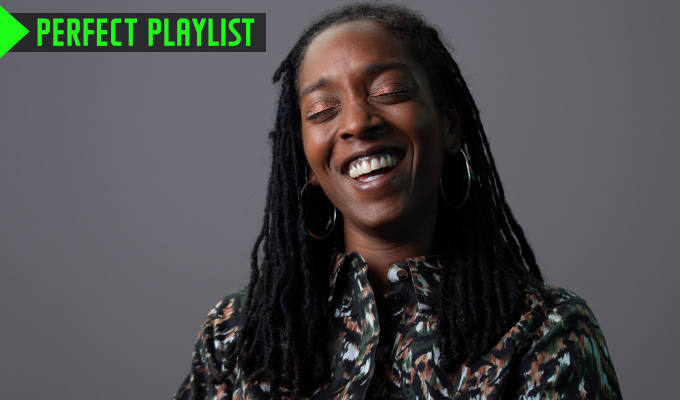 'Problematic and bloody hilarious at the same time'
As she prepares to bring her new stand-up show, Shaking Her Class, to the Soho Theatre later this month, Athena Kugblenu shares her Perfect Playlist of favourite comedy moments…
The Simpsons
Everything that has ever been written has been done on The Simpsons already. You're not in a comedy writers' room if an idea isn't suggested that they have already done on The Simpsons. Famously not so great anymore, but was sublime for a very long time. I am a big fan.
Patrice O'Neal: Missing white woman bit
Patrice O'Neal was the best at being problematic and bloody hilarious at the same time. I think this bit is a perfect example of it where he clearly demonstrates the status white women enjoy whilst showing how we're all complicit in it.
'Name a Peruvian girl that was killed yesterday' is a line that's funny and painfully tragic at the same time. He was one of the best.
All of Ali Wong's Netflix specials
Ali Wong is just so funny, and her specials are brilliant. I love her delivery, her observations and her honesty. She's brazen with it too, she's got some real Joan Rivers quality. Also, I love her rom-com Always Be My Maybe, which is on Netflix too.
Girls Trip
This film is HILARIOUS. It makes me laugh out loud. Who knew a woman wetting herself whilst being suspending over a crowd of people could be so funny?
Tiffany Haddish makes the movie, but the chemistry between all four leads just creates some big laughs. I like comedy that is outrageous and this is very outrageous in parts. Nice to see a bit of gross-out comedy being done by people who aren't white men.
Coming To America
One of the funniest movies ever made, in my opinion. John Landis smashed it, even though the rumour is he and Eddie Murphy hated each other by this point. Which never made sense to me because they made Trading Places together and I loved that too.
Coming to America has iconic scenes that I am pretty sure will make my kids laugh when they are old enough to get the jokes. It might sound a bit deep for a comedy film, but it really is art that is catharsis for the diaspora.
So much of what Eddie Murphy's character goes through speaks to what we go through as 2nd generation people in majority white countries.
Abbot Elementary
Full disclosure: I haven't actually seen an episode of this in full! I have just seen clips circulating online which make me laugh out loud. So, I am sneaking this in as it's on my 'one to watch' playlist. It looks full of heart but incredibly on point with the jokes.
Earthquake: Legendary on Netflix
Along with a heap of money, Netflix also gave Dave Chapelle the chance to showcase some of his comedy chums. One of the specials to come out of this is Earthquake: Legendary.
If you don't know Earthquake, please watch this special. It's 30 minutes of the most incredible comedy. Just pure energy and the absolute friggin' truth on everything he speaks on. And so, so funny. He has a bit on anti-vaxxers that makes me cry it's so funny.
• Athena Kugblenu: Shaking Her Class is at Soho Theatre from May 16 to 21 at 9pm. Tickets available here, and her new Radio 4 special Magnifying Class is available on BBC Sounds. She is also host of the forthcoming comedy show DMs Are Open on Radio 4, which will accept jokes and sketches from members of the public.
Published: 3 May 2022
What do you think?