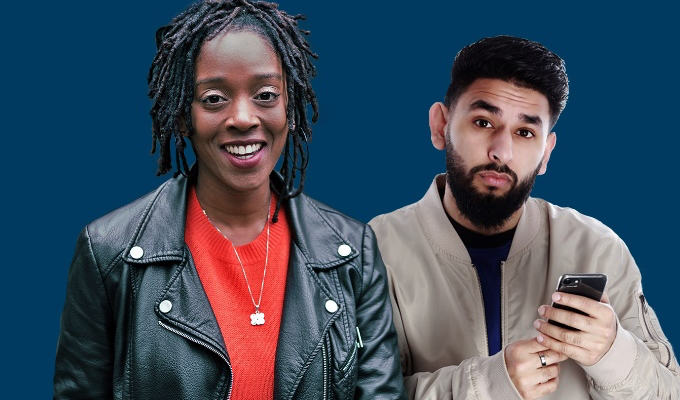 Radio 4 announces a new open-door sketch show
Radio 4 is to launch a new comedy sketch show which anybody can write for.
DMs Are Open follows in the open-access tradition of Newsjack, the topical show which the BBC axed last autumn after a12-year run, and Week Ending, which ran from 1970 to 1998.
It will be hosted by stand-up Athena Kugblenu and social media star Ali Official and feature a cast of comedians - yet to be named – who will bring to life gags submitted by contributors.
Kugblenu says: 'Co-hosting DMs Are Open is going to be a downright privilege. This is the people's show and I can't wait to be part of something that's going to amplify some of the best untapped comedy writing talent in the UK.'
And Official – real name Ali Shahalom – added: 'DMs Are Open will cover politics to pineapple on pizza. Having creative permission to dissect the world's week in a funny and interactive way, is my type of gig.
'Really looking forward to lending my voice to explore and unpack both the silly and satirical.'
Producers at BBC Studios will be inviting sketches, one-liners, and 'voice notes ' – with the latter performed by public contributors, too.
The show is described as satirical and 'loosely topical… reflecting online conversations and trends through a heady cocktail of comedy formats'.
Programme-makers say: 'This broader playing field is designed to attract a wide range of submissions and will reflect pop culture, hot takes and the political and social zeitgeist.'
The six-part series starts on Thursday May 19 at 10.30pm on Radio 4 Extra and BBC Sounds, and then will be broadcast on Radio 4 at 11pm the following Monday.
Aspiring comedy writers are invited to join a webinar at 6pm on May 11 to learn more about what producers are looking for. Submissions for the first episode will open the following day through the Radio 4 Extra website.
Published: 27 Apr 2022
Recent News
What do you think?