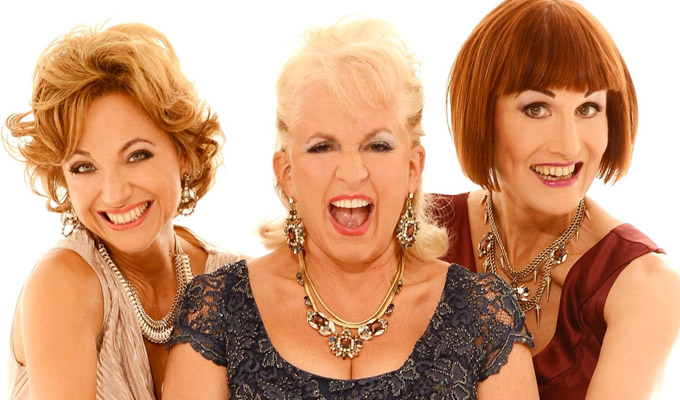 'Funny, subtle, brilliant, subversive'
Ahead of their four-week Christmas residency at London's Southbank Centre, and 2020 UK tour, Fascinating Aïda's founding member Dilly Keane, centre, shares her Perfect Playlist of comedy favourites.
Outnumbered
I was bowled over when I saw this, I really couldn't get enough of it. It's funny, subtle, brilliant, subversive. I have particularly fond memories of Karen trying to decide which of the world's premier religions she wanted to lead.
The characters are so wonderfully recognisable and brilliantly played. It's got the magic Dad's Army ingredient – compulsive re-watchability. Any time I catch it on whatever channel, I have to sit through it again.
Sid Caesar – The Three Haircuts
Sid Caesar is almost totally forgotten in this country, but time was when he was the biggest thing on American television for a decade, and I mean the BIGGEST. But the strain of headlining and co-producing a weekly show was too much for him; he became addicted to sleeping pills and booze.
I saw him when he was trying to make a comeback in a tiny theatre in Greenwich Village and he'd lost it really, but I was still entranced, because I'd videotaped a documentary series about him and became a fan after watching it 20 times.
His range was enormous – he spoofed everything from current pop music to French art movies. He could create comedy from gossamer. The Three Haircuts is just a piece of inspired goofing as three Teddy Boys - they sing nonsense and dance like trendy dickheads. Magic.
Derry Girls
We watch anything Irish in our house, so when we heard about this we immediately started watching and became hooked.
It's an extraordinary achievement to set a comedy series in the time of the Troubles which means it hasn't a whiff of nostalgia about it – quite the reverse. It has a gloriously subversive quality and both the writing and the acting are sublime.
I'm overjoyed that they're making a third series. In fact, I am going NOW to watch it all again.
This Is Spinal Tap
There are certain comedy films that come up time and time again and this is my uber-iconic choice. A friend took me to see it when I was living with a rocker of a certain age. 'You must see this movie, you'll LOVE it!'
I sat open-mouthed and quiet throughout. After we came out, he said, 'Didn't you find it funny?"' I told him I thought it was absolutely hilarious.
'But you didn't laugh?. 'Too like my own life,' I replied. 'I'll laugh when I see it next.'
I took my old rocker the following week and laughed like a drain. OMG, it was painfully, joyously true. And as Fascinating Aïda has now gone through at least as many sopranos as Spinal Tap went through drummers, I feel even more kinship.
Dave Allen
Still for me the greatest stand-up. So intelligent and so versatile. He had a huge range and great vocal control, he could illustrate any story with a vast repertoire of noises.
I grew up in a deeply repressed Irish Catholic household, and although he was as subversive as hell, my parents loved him because, well, you know, the Irish always seek each other out.
He was such a wonderful Light Relief in those uptight times. I got to know him a little – he was the most charming, generous man, and I find watching him slightly sadder now because he died far too young.
• Fascinating Aïda have a four-week Christmas residency at the Southbank Centre's Queen Elizabeth Hall in London from December 10, followed by a UK tour in 2020. Dates
Published: 8 Nov 2019
What do you think?