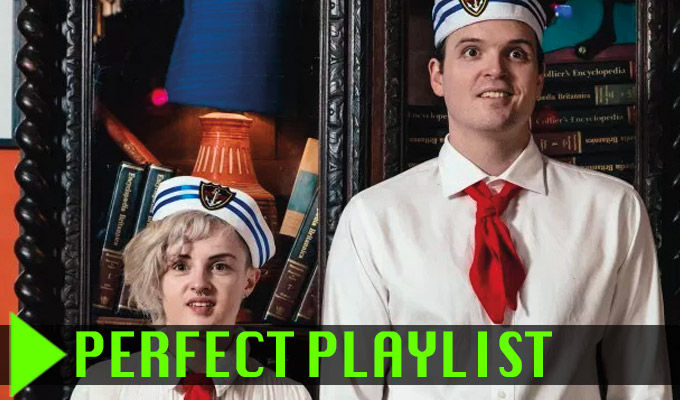 'These guys look genuinely cool while acting like absolute shitheads'
Tom picked: Kung Fu Hustle
Tom: This is my favourite movie. The best non-Looney Tunes movies Loony Tunes movie ever. This movie has my single favourite acting choice in the world, the laugh the protagonist at the end of this scene:
This universe ramps up and up before you realise you're not even in a kung-fu movie, you're watching a real life cartoon. ALSO that knife throwing scene? Perfection.
Demi: I agree and I have never related to anyone more than the smoking woman with the slippers.
Demi picked: Damn ass gay ass rock
Demi: The kid on the ground is so sincere and his friend really does want to make him feel better in the most insane way. – by doing 'something gay' to the rock. Then 'why would nature do that to me' tops it off. The first time he properly says 'damn ass gay ass rock' it sounds like a freestyle rap.
Tom: Demi's bi so she's allowed to like this without it being problematic.
Tom picked: Gamarjobat
Tom: I've watched this so many times. Gamarjobat are two of my favourite physical comedians because they're so quick and pack so many gags into their sets. I love seeing incredible physicality used on the dumbest gags, especially because most people this good at mime underline the skill instead of lining it with jokes. No shitty expertly mimed walls no one cares about here.
Demi: It's nuts that these guys look genuinely cool while acting like absolute shitheads.
Demi picked: Dumb & Dumber
Demi: It's so fuckin dumb and really holds up. It's so full of jokes. I think it's been remembered wrong – it feels like people turned on it, probably for Dumb & Dumberer which sucked butts.
Every scene where they're driving, especially the most annoying noise in the world, makes me laugh every single time.
Tom: Best car in all movies.
Demi: Selling a dead bird to a blind kid in a wheelchair with its head taped on. It's the meanest you could be to the most vulnerable person you could find, and such a slow burn. To have something that mean and weird as the main plot point is so funny.
Tom picked: Sam Campbell
Tom: The Sydney Comedy Store has a giant concrete staircase backstage leading to the parking lot.
The staircase is dotted with splotches of green paint and up high, two big green hand prints, because years ago, Sam was booked for a Christmas showcase and painted twelve friends a lurid green and had them burst out during his set to chase him around as 'Grinches' as he sang a song about Christmas.
I'll see anything he ever does. He made Nippers with Eric Hutton and it stars faves like Anne Edmonds and Adam Hess in a blink-and-you'll-miss-it cameo as a hacker, it's now all on YouTube and it fucking rips
Demi: No comment. I will never bow to a peer.
Demi picked: Lano & Woodley – The Island
Tom: I saw this live! Fuck they're good.
Demi: Most of their ideas fit in my favourite type of comedy, which is a fucking stupid idea done beautifully. The chicken attached to Colin's prop is the funniest prop, then the noises Frank does for the chicken are perfect, then the spinning stage, then them both badly hiding their corpsing.
• Demi Lardner and Tom Walker are in We Musn't at Monkey Barrel Comedy at 00:15. Tom's solo show Very Very is on at Assembly Roxy at 21:30 and Demi's Ditch Witch 800 is on at Gilded Balloon Teviot at 21:15
Published: 1 Aug 2019
What do you think?