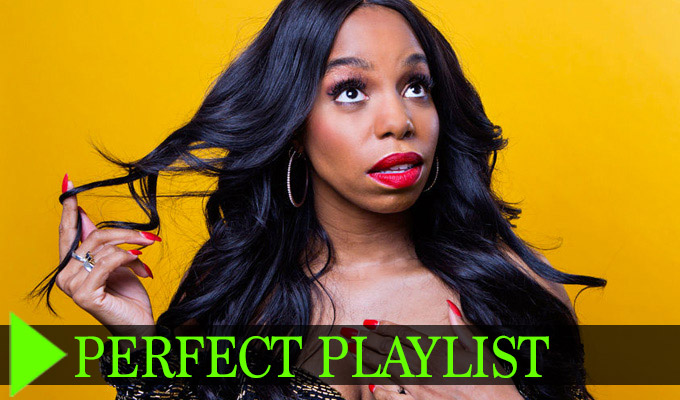 If you're going to watch one show with zero people of colour in it, make it this one...
My Wife And Kids
I used to think this show was genius as a kid, so funny, so culturally black but in a non-stereotypical way. Every episode was filled with family and funny and teachable moments, and the comedy performances from Jay- played by Tisha Campbell Martin and Michael – Damon Wayans are EXCEPTIONAL!
The episode where Jay loses her job, and comes home to slam things is a master class on comedic timing and performance. This show made me want my own American sitcom.
Fleabag
Leave aside the stand-out performance by the sex shop worker in series 1 episode 3 (That girl's got a bright future ahead of her) the whole show is executed flawlessly, acted brilliantly and its so filthy and feminsty and relevant. Series 2 is where the show really shines though. It made me want to have wild sweaty sex with an unsuspecting member of the clergy, and when the vicar starts noticing Fleabag's little looks to camera, ugh next level! So smart!
Atlanta
Donald Glover is so fit, and his brain is so delicious that I'd honestly watch him do anything, but this whole show surpasses my expectations, it's wacky and surreal and dark and weird and funny and sometimes I don't really know why I'm hooked, but I'm hooked. It's a show that needs to be watched, it's art in television form.
Fraiser
My future husband needs to have seen every episode of Frasier, it's like a warm comfort blanket to me, I'm obsessed with all the characters and it's just so funny.
I used to write Frasier fan fiction as a kid and write myself into every episode as Frasier's adopted black British daughter Denise.
I loved it, and quite frankly If you're going to watch and enjoy a show with zero people of colour in it, this is the perfect choice.
Hello Ladies
Not many people liked this show but I LOVED it, it stars Stephen Merchant and it's all about him trying to pull models in LA. I don't know whether it's my love for LA or awkward-looking skinny white dudes, but this show just spoke to me on so many levels.
I binge watched the whole series in 2 days. Don't let the fact that it only had one series put you off, its so funny and romantic and cool and you cant help but fall for for Merchant's character even though he's a completely clueless and vapid narcissist! A must watch!
Insecure
Issa Rae's HBO series about her life and relationships is the black girl joy on television that I didn't even know I needed, I'd kill to have a British equivalent of this show! It's funny and sexy and so so relatable and also extremely refreshing to see black women on screen that are educated, and not mothers or girlfriends of gang members who live in council estates.
In this show there are black girl lawyers, black girl businesswomen, black girl graduates all living their best lives the best way they know how.
This is the closest thing black women have to Lena Dunham's Girls – If Lena had actually decided to put black women in the show.
• London Hughes: To Catch a D*ck is on at the Pleasance Courtyard at 20:15 during the Edinburgh Fringe.
Published: 22 Jul 2019
What do you think?