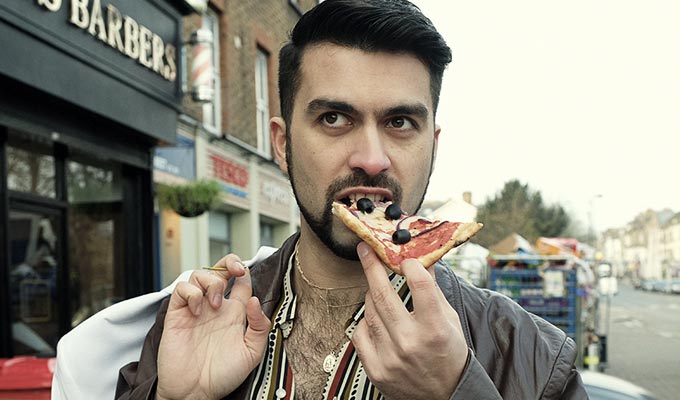 'It was underrated because of Russell Brand'
Fresh from his role as Russell in E4's Dead Pixels David Mumeni is about to star as pizza takeaway boss Mario in the new Dave comedy Sliced. Here he picks his comedy favourites.
Phoneshop: Do The Music
Phoneshop was one of the first comedies where I heard people sound like the people I grew up around. I remember seeing the Channel 4 pilot and made everyone I knew watch it to be like "Isn't this funny!". So was really excited to see it go to series.
Lucky me who has got to work with writer Phil Bowker twice [including on Sliced]. There was a time when me and my mate Tom would get a bit drunk and watch the final episode of the third series, Do The Music, every time we met up. The scene where Tom Bennet has to improvise and pretend to be Javone Prince's character to a threatening fella is funny, funny, funny.
Forgetting Sarah Marshall: 'You sound like you're from London'
This film is underrated! I think British audiences didn't flock to the cinema to watch because it had Russell Brand on the poster who I think people felt a bit Marmite about at the time.
It has some really big beautiful laughs and a load of heart. It's also where in my early 20' I fell madly in love with Mila Kunis. I challenge anyone not to fall in love with her character once they've watched it.
The biggest laugh for me comes when Russell Brand gets pierced with a piece of coral and Paul Rudd's respect. I hit the pause button and laughed out loud for a strong minute and a hald.
The American Office: Dwight's First Aid Course
Amazon Prime just dropped every single series for you to stream and I got through them like a bag of Cadbury's Giant Chocolate Buttons.
I think I was put off when it first came out years ago because I compared it to the British Office but they're completely different comedies and incomparable really.
The series 5 episode Stress Relief has to be the best opening to a sitcom ever and the first aid scene in when Dwight plays tribute to Hannibal Lecter is one of the funniest, smartest things I've seen ever. I had to pause, laughing out loud for a strong two minutes. So 30 seconds on Forgetting Sarah Marshall.
Cardinal Burns: Fiery Hawk and Young Dreams
Fiery Hawk from Cardinal Burns is a sketch that every actor can relate to. Sums up every actor's experience in a commercial audition. I was also a fan of Cardinal Burns when they had their show on Channel 4.
The cinematography was like that of a film. I'd never seen a comedy look so beautiful. Every week I'd mostly look forward to seeing their Young Dreams sketch, a spoof on Made in Chelsea and The Hills.
I'm Alan Partridge: To Kill A Mocking Alan
I mean, he's the source isn't he? The saucy source. You might forget and think he founded the genre. Hence the source reference.
I actually got into Partridge quite late. I'd watched the British Office, and was like 'these guys shifted comedy', and while on tour with a play someone told how Ricky Gervais said he was heavily influenced by Steve Coogan's Partridge. I think To Kill A Mocking Alan has to be my fave ep.
My Cousin Vinny
Last but not least…One of my favourite films of all time. I've watched it 100 times. It was that on BBC Two, which would repeat it at 11pm at least once a month.
Joe Pesci is brilliant, Marisa Tomei is spectacular and it gives you all the feels at the end. Every time I watch it I feel elated that the case was won!
• Sliced, which also stars Samson Kayo and Theo Barklem-Biggs, airs at 10pm on Dave from next Wednesday, May 15.
Published: 10 May 2019
What do you think?