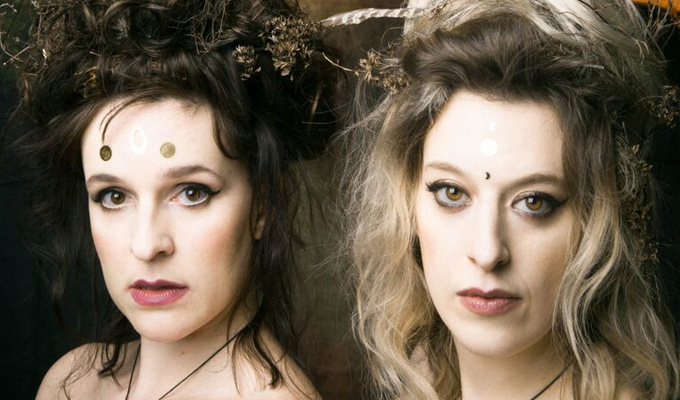 'Relentlessly bleak and strangely hypnotic'
Double act Katie Norris and Sinead Parker share their Perfect Playlist of comedy favourites as they prepare to take their show Burn The Witch to the Soho Theatre later this month.
Julia Davis
This woman is a genius and everything she writes is a joy to watch. From Nighty Night, to Camping to Sally 4 Ever, her shows are full of the horror of human cruelty, manipulative psychopaths and highbrow filth. We love how she humiliates and degrades her characters (especially the men) to the point where you're in pain from cringing and aroused/in awe of her fearlessness.
When we get writers' block we always ask: What would Julia Davis do?
Here's a trailer for Lizzie and Sarah, the pilot she and Jessica Hynes wrote for the BBC, it's a crime that this wasn't commissioned but it is still available online.
Coronation Street
We are massive fans of Coronation Street and the North in general. Sinead is Mancunian, and Katie is an honorary Northerner as we both lived together and started writing comedy together in Manchester.
Our show Burn The Witch is set in a fictional Northern town, Phallus Ridge, and we describe it as 'Corrie meets Twin Peaks'.
Our favourite Corrie characters are Sally, Gail, Norris, Dev and Audrey and we always think the Corrie writers are just having a laugh by making them say the most ludicrous lines they possibly can.
Once Sinead saw Audrey in the audience at the Royal Exchange, accosted her and made her sign her programme. Sinead's brother once saw Dev and still talks about it now. Katie's Dad was nearly cast as Ken Barlow after graduating from RADA in the 1960s and narrowly lost to William Roache who still has a full head of hair which we're really impressed by.
Enjoy this extended montage of Audrey Roberts making a noise:
Father Ted
Sinead first watched Father Ted when she was visiting family in Ireland as a child. It was the 'lost in the lingerie department' Christmas special and it was love at first sight. It's so beautifully silly and surreal but also entirely accurate in its portrayal of middle-aged Irish women constantly forcing cups of tea on you.
Sinead has carried on this fine tradition and writing sessions with Katie involves chain tea-drinking. Sinead always makes the tea because just like Mrs Doyle she 'likes the misery'.
We love this clip of Mrs Doyle mistaking raisins for cocaine and just generally being one of the best sitcom characters ever.
Chris Morris
We love Jam; it's so trippy and strange. From Julia Davis trying to make friends by murdering a woman's son and then offering her tickets to Cats while she weeps in her arms to the man trying to commit suicide by repeatedly throwing themselves of a first-floor balcony, it's almost relentlessly bleak as well as strangely hypnotic.
Brass Eye is a fearless and brutal masterpiece that really stands the test of time.
Chris Morris telling Stewart Lee he sounds like a 'corrupt baron' in Stewart Lee's Comedy Vehicle is also a joy. Essentially we love Chris Morris.
The League of Gentlemen
We bonded over the League of Gentlemen when we met at drama school in Manchester. We bought a joint box set, would meet to eat Chinese takeaway and watch it for hours. We can quote every character and know most sketches almost word for word.
It's such a clever, detailed show; grotesque but full of pathos. It's equal parts comedy and horror- we're still terrified of Papa Lazarou, David upstairs and Herr Lip burying Justin in the garden.
The characters are usually exaggerated but they're also truthful and rooted in reality, often based on people they met in real life.
This clip of Ross and Pauline from season three though came as a total shock and scarred us for life.
Withnail And I
Withnail And I is our joint favourite film. When we shared a flat in Manchester, we often had matter growing in the huge pile of washing up and Katie would regularly drink anti-freeze when times got hard.
We once went on 'holiday by mistake' to France and something bad happened which we can't talk about.
• Norris & Parker: Burn the Witch is at the Soho Theatre from February 19 to 23. Here is our review from last year's Edinburgh Fringe.
Published: 5 Feb 2019
What do you think?