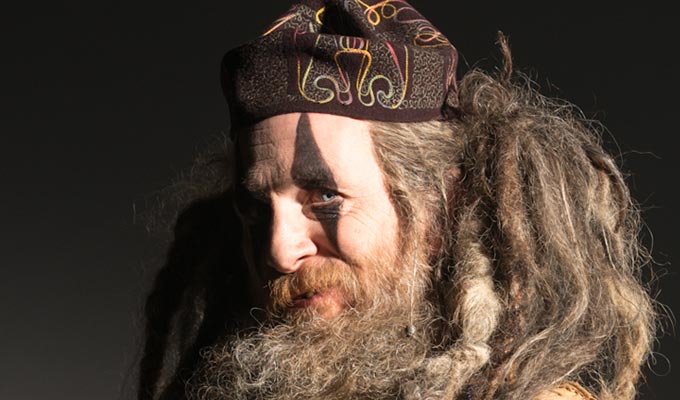 'The genius of Mel Brooks was a gift to humanity'
Dick Shawn dancing
As a kid, my dad sat me down to watch Its A Mad Mad Mad Mad World on TV one Christmas and told me I was about to see the funniest film every made. I didn't take that as being just his opinion, I took it as hard fact. I wasn't disappointed.
If I had to pick my favourite moment it would be Dick Shawn wearing Bermuda shorts dancing with his incredibly intense girlfriend while the phone rings incessantly in the background. I'd never seen anything like that dude before, his insane energy literally blew my mind.
Faulty Towers: Gourmet Night
As a schoolboy of the 1970s, we were endlessly reciting Monty Python sketches and everybody wanted to be John Cleese.
Walking home from school one day in 1975 back in Wembley, a policeman stopped us crossing the road and told us all to be quiet and stand still. A little red car suddenly drove up on the other side and stopped outside our local Chinese restaurant, which strangely had a new sign up top with Andre's written on it.
John Cleese jumped out the car, dashed into the restaurant and then came out a few moments later holding a silver platter. He got back into the car and sped off. It was the most exciting moment of my life.
Jilted John
Graham Fellows' genius comedy creation appeared on Top Of The Pops back in 1978 with a killer riff reminiscent of the Sex Pistols B-side I Wanna Be Me.
The band twitched in synchronicity and there was a zonked-out freak out front doing the hand jive. Jilted John began explaining to us with extreme vexation that his girlfriend Julie has just ditched him for a moron called Gordon and suddenly you could laugh and pogo at the same time!
As a side note, when I first saw Blur play in a Hammersmith pub back in 1989, I instantly fell in love with Damon Albarn because he reminded me so much of Jilted John! Here we go…2,3,4
Ripping Yarns: Golden Gordon
There's a scene in Golden Gordon where Barstoneworth United's coach, Mr Dainty, is taking a training session with his hopeless football team. One of the players is crying because he thinks another player has nicked his shorts and Mr Dainty delivers an impassioned and heroic speech about how football is less about the shorts you're wearing and more about the upper thighs that inhabit them.
It's so brilliantly written by Michael Palin and the performance is perfection. I still know the speech off by heart and have gleefully re-enacted it on muddy football pitches throughout my life.
Interestingly, the last time I did it was at a match I organised for my 50th birthday but I found it didn't go down quite so well on astro-turf.
Inspector Kemp lighting a cigar in Young Frankenstein
I saw Young Frankenstein for the first time as a double bill with Blazing Saddles and I was spellbound by the manic lunacy of Kenneth Mars. As far as I'm concerned, the scene where he lights the cigar with his mechanical hand is the funniest piece of physical comedy I've ever seen.
Like the Marx Brothers and Buster Keaton before him, the genius of Mel Brooks was a gift to humanity. Kenneth Mars himself had an incredibly diverse career, I only recently found out that he was the sheriff heading the posse in Butch Cassidy And The Sundance Kid.
Kunt & The Gang
I did a Mike Strutter Group gig down at Chinnerys in Southend about ten years ago & we had Kunt & The Gang supporting us.
It's a rare thing that you get your first laugh from a comedy act just by seeing their name on a poster. The sheer genius filth of this man was staggering. The only reason most people have never heard of him was his flat refusal to ever compromise and change his name.
His set in Southend was so outrageously funny and shocking that I didn't bother doing any gags between songs when we came on. There was no point because my filth wasn't a match for his filth and the audience were all laughed out anyway.
I had to go for plan B instead which was to basically perform as violently as possible and self-harm a lot.
• Paul Kaye is currently starring in Zapped, which continues Wednesdays at 10pm on Dave and is available on UKTV Play.
Published: 19 Oct 2018
What do you think?