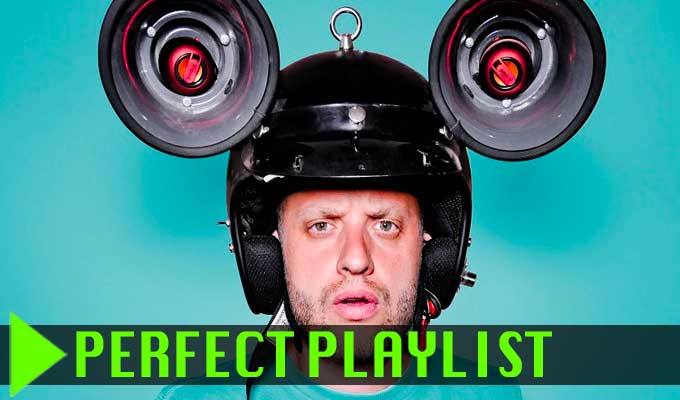 'It's completely batshit and I love it'
As a writer I feel I'm very in touch with human emotions and by that I mean sometimes I write bare bummed. Never topless of course, with webcams you can never be too careful. It's not a sexual thing; I'm 40 now and as sexless as a dentist's waiting room. You don't need this information what you need is A FEW LINKS TO SOME SHIT.
I Don't Like Cricket: The Mighty Boosh
I was a bit sniffy about the Mighty Boosh. Maybe I was just jealous? Oh god, what does that say about me? BIT EARLY FOR AN EXISTENTIAL CRISIS IN THE ARTICLE WILLIAM. This clip though, had me roaring. Everything is there, daft stuff, deadpanning and a long build up to a joke. 45 seconds is a long time in television…
My Job - Joern Utkilen
I went to Edinburgh College of Art which taught me how to be a bit wanky and left my largely unemployable. It was an amazing time, and something which I can highly recommend you do, or indeed encourage your children to do, although not if you think you may need them to support you financially when you get old.
This video is from back then, completely batshit and I love it. It's by Joern Utkilen who has a feature film out at the moment called Vann Over Ild. Check that out too. Or don't. I'm not your dad.
This is one of mine. Bit arrogant that isn't it!? Well - I'm posting anyway. I mean it's far from perfect - but, it was a perfect feeling to watch something go from script to screen. I can still remember making this for Channel 4 and thinking I was such an imposter that I was definitely going to be arrested and thrown in the sea. This version is an off-line version so it's super rough.
In fact, fuck it - I'm going to post another one from my channel. It's a live video from an Alternative Comedy Memorial Society night. Me and Tom Golding used to meet up in the day before each gig and rough something out. It's a repetition gag really - with classic double act nonsense. The gigs would go so well that it would give you a distorted sense of the material. We tried this other places and died on our arses.
Scarfolk Council
This website is so rich; I can spend hours looking at this stuff. It's basically a pastiche of old fashioned public health posters but dark. Way dark. Darker than Bovril. Dark like a better analogy than Bovril. It's the work of designer Richard Littler, who I genuinely would be a bit unsettled if I was left alone with him. That makes me sound like I have a carer, I have a wife - is that the same? No.
This Machine Destroys EVERYTHING
This has a lot going for it. I may have studied this in greater detail than my son's face. That's not true. I have studied it a lot though.
These guys seem to have a thing for putting tampons and sanitary thingmys in the machine - which leaves you with the creeping sensation that the operator is going through a breakup. The music is enough to distract you from any underlying misogynist themes though - turn it up and do a clap when it EATS A SOFA.
• William Andrews; Willy is on at Pleasance Dome at 16:45
Published: 22 Aug 2018
What do you think?