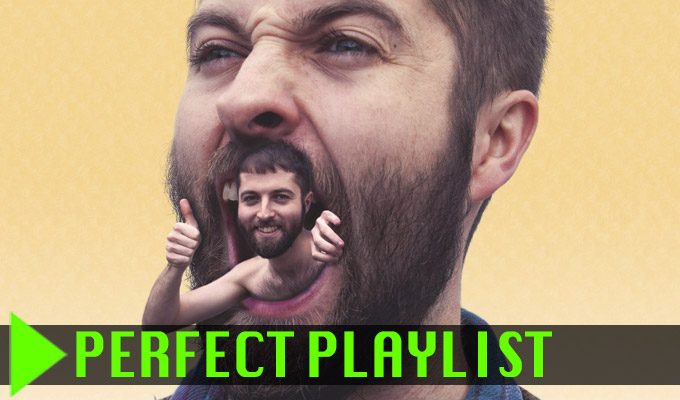 'I love how all the dialogue is insincere, flippant and ridiculous'
Joe Wengert: Girardi's Frozen Yoghurt
In this sublime piece of character comedy, Joe Wengert plays the manager of a frozen yoghurt stand, who is holding a meeting of his high school-age employees, because they've been desecrating the work corkboard.
There's so much I love about this bit. Wengert's character has no self-awareness whatsoever, and it's beautiful to watch him describe the ways in which his employees have been mocking him, without ever getting the joke.
I'm also kind of obsessed with useless authority figures, and I find them really funny. It's got something to do with watching timid or unassertive people in a position of power.
Cowards
I think this is the funniest sketch show that's ever been made and I cannot believe they only got to make three episodes. Like everything Tim Key does, it is an absolute masterclass in subtle, understated and deadpan comedy, where huge laughs come from slight intonations and word choices.
I love the first sketch on episode three. I think about this sketch pretty much every time I sit down to write a sketch. Like all good sketches the premise is incredibly simple: what if you dropped your coins and people were actually angry with you?
But there's something great about the way it externalises the embarrassment we feel when we make the tiniest mistakes.
Mistaken for Strangers
A documentary about The National, filmed by the frontman Matt Berninger's brother Tom, as he follows them on tour, working as roadie.
The film becomes more than a music documentary though, as Tom is accidentally a brilliant comedy character, and pisses off all of the band and crew by just wanting to get drunk and have fun all the time, rather than do his job.
It's a really sweet and moving portrait of a relationship between two brothers that is, at times, tense and fraught, but ultimately warm and loving and mutually supportive. And it's really not important to have any interest in The National in order to love it.
Year Friends
This was a great web series that came out in 2016 from Sheeps, Jamie and Tash Demetriou and Ellie White. It's a flatshare mini-sitcom that is kind of like an absurdist version of Friends.
I think what I've hated about a lot of British sitcoms that have come out over the last five or ten years is how contrived and unnatural a lot of the dialogue is, but in Year Friends that's the entire point. I absolutely love how all of the dialogue is totally insincere, flippant and ridiculous.
There's a constant flicker of joy behind the eyes of all of the performers, as if they're enjoying a joke that only they know about, and it's so fun to watch.
David Shrigley is a visual artist, but he makes you laugh so it's actually fun and good! His drawings are silly, absurd, ridiculous and totally accessible and unpretentious. I find Shrigley inspiring because his drawings are often deliberately bad, and seem to display almost no technical skill, and yet he's a hugely successful artist. I think this is due to his spirit and sense of humour.
This drawing of a man stuck on a wheel is probably my favourite of his. It's so simple and perfect. I'm not really sure what it means or why I find it so funny, but aren't we all just little stick men stuck on a crazy wheel? I know I am! I want to get this tattooed on me, but my ex told me it would look like an anus, and now I can't unsee it.
Los Campesinos!
I first started listening to Los Campesinos! when I was 16, and I think it was the first time I realised that serious, emotionally-affecting music could also be filled with fun, lightness and humour, and be no less affecting because of it.
My love for this band not only defined my entire music taste (I discovered dozens of bands that I now love by reading a series of blog posts that the band members did in 2010 on their favourite albums of the preceding decade), but also gave me a love for art, across all forms and genres, that blends miserable subject matter with joyous and comedic modes of expression.
They had song titles like This Is How You Spell 'HAHAHA, We Destroyed The Hopes And Dreams Of A Generation Of Faux-Romantics and A Portrait Of The Trequartista as a Young Man.' heir lyrics are often filled with jokes or blackly comic expressions of heartbreaking moments like: 'We kid ourselves there's future in the fucking, but there is no fucking future.' Or consider this lyric from Too Many Flesh Suppers: 'You don't pay back the debt you owe your parents for birth by giving grandkids in return; you watch them die through your declining eyes.' I mean, what a thing to say: that birth is a punishment and death is a gift. They flirt with melodrama, self-awarely embracing it for laughs, but at the same time, in that moment, fully meaning it.
They are funny and moving and beautiful and everything that good art should be. Unfortunately, because they had 'You! Me! Dancing!' on a Budweiser advert a while ago, most people I speak to just know that song, and although I do like that song, it doesn't really reflect what they're capable of as a band, and it makes me look like a loser when I talk about them on dates and at parties.
This is a nice song about having a wank in the shower over the thought of your girlfriend's housemate, while your long-term relationship is falling apart:
David McIver Is A Nice Little Man is on at Opium at 2.30pm.
Published: 16 Aug 2018
What do you think?