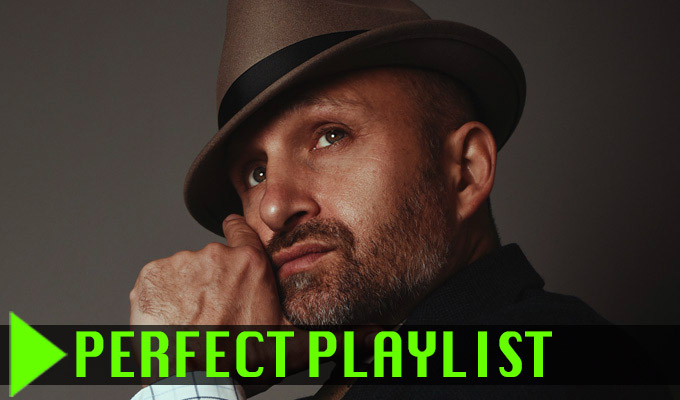 'Drag queens discussing wrestling, what's not to love'
Maximum Fun
Podcasts from Jesse Thorn's ever-growing empire have accompanied me literally all over the world, for more than a decade. More than entertaining me (which they really do), they reassure my fragile little soul that there are people, successful people, in entertainment, no less, who are as genuine, sweet and heartfelt as they are creative, driven and hilarious.
Shows like - and these would be some of my personal favourites - Jordan Jesse Go!, Judge John Hodgman, Tights and Fights, Bullseye, and their new, scripted show, Bubble seem to be made and performed by people who don't just care about what they do, but care about the impact it has. Which, in comedy, is perhaps rarer than it should be.
They're good peoples, is what I'm saying. But that's no reason to listen to the shows - you do that because they're knock down, drag out, stupid funny and clever.
I recommend this in spite of Jesse's well-publicised distrust, nay hatred, of anyone with circus skills. May this olive branch help heal the divide. Also, he's not entirely wrong about that.
Full disclosure: Earlier this year, I was a guest on Jordan Jesse Go! It was literally, actually, a bit of a dream come true. Also, I had a hell of a potato salad at lunch before I went to the studio to do it. That's not relevant though. I wrote about the experience of recording the show here. I'm too scared to listen to it, but you can, here.
Nobodies Watching Wrestling
A YouTube channel where drag queens discussing professional wrestling. I mean, honestly, if you need more reason to watch than I just gave you, you're a lost, joyless, cause.
I'm a big fan of professional wrestling – partly because its fun, and partly because it feels similar to what I do. Carnies, travelling the world performing an artform that, at first glance looks low-brow and simplistic, but on closer inspection, reveals itself to be some pretty cool and clever theatre.
Also, thanks to the variety of places I get to ply my trade, I've spent a decent amount of time in the company of both drag performers, and wrestlers. And as any smart cookie from either artform would tell you, those worlds ain't so different at all.
This, along with the previously mentioned Tights And Fights podcast, is part of a much needed public expression of wrestling fandom from places that perhaps, in the past, haven't been as represented as they could have been – chiefly people of colour, and members of the queer community. The more fans from these places get more visible, the more the product – be it wrestling, or anything else – might start reflecting a more diverse fanbase, and that makes everything more interesting, right?
But they wouldn't be on this list if they weren't funny, and Good Grief they're funny. You don't need to know anything about wrestling or drag to enjoy it – but if you do, then good god you're in for a treat.
Fraser Hooper
Hang on to your wigs and keys, I'm recommending a clown.
Fraser is predominantly a street performer. I've shared pitches with him at festivals and gigs around the world, over the last couple of decades and change. I must have sat on my suitcase behind a pitch and watched his act hundreds of times over the years, and every single time, without fail, he'll do something I haven't seen before, which will make me guffaw like a broken car alarm.
Big pieces of knockabout slapstick and visual ridiculousness, sure, but also such subtleties – and working outside, with no spotlight to force an audiences focus – just his vaudevillian skills. He dissolves audiences into hysterics with a glance. He encourages chaos with children yanked from the crowd, or adults challenged to best him, and then he rides that wave of unpredictability like a bloody surfer, making it look easy.
Yes, he's my friend, but he'd still be on this list if he weren't. If we journeyed a little back in time, Fraser's mastery of silent clown would have seen him a star of – depending on the dates – circus, or music hall, or movies. As it is, he's a bona-fide star of street performing and festivals. If you ever see him advertised, get there and let him change your dumb-ass, preconceived hack notions about clowns and buskers.
Rupert Jee
Rupert Jee owns and runs the Hello Deli, located at the junction of 53rd Street and Broadway, in New York City. David Letterman used to perform his late night show at the Ed Sullivan Theatre, right next door. Quite soon after Dave's arrival there, he started running a segment where he would get to know his new neighbourhood. When he met Rupert, one of my favourite running gags was born.
Now look, I don't know if Rupert is a skilled comedy performer, or just a nice guy who runs a deli and seems fairly nonplussed by everything around him. My suspicion is that it's mostly the latter, but that's irrelevant, because that deadpan deli owner, when wearing a hat and a pair of glasses that allow Letterman to sit in a van nearby, seeing what Rupert sees and barking instructions into his earpiece, go unleashed on unsuspecting New Yorkers – funny happened.
Rupert's ethnicity and quiet, assumed low status, let him be an avatar through which Letterman could cause anonymous chaos. But rather than being a automaton, just a vessel for Dave's words, Rupert lent them his poker-faced delivery, and occasionally let his victims reveal how they treat someone like him, rather than someone like Dave.
Once, during a trip to New York, I went to the Hello Deli. There, behind the counter, looking just like he had done years earlier on my TV, was Rupert. And I lost my everloving shit.
Now look, I've met my fair share of very famous people. Hell, just that same morning, I had spent an odd couple of hours hanging out with American illusionist David Blaine, and been more curious than starstruck. I'm almost always pretty chilled in those situations, but not in the Hello Deli.
My wife shuffled us over to a corner table quietly and I had to take a few minutes to consciously gather myself, and take some deep breaths, before standing up, going over to Rupert and telling him what a fan I was. He was, of course, delightful. And made us damn good sandwiches, too.
Jennifer Aniston's performance in Friends
We've been churning through the entire run of Friends recently. It's fun, but it's not plain sailing. There's some stuff that, frankly, was dodgy enough in the 1990s, but these days, causes the modern viewer to inhale sharply more often that they should.
The lack of people of colour is the most glaring issue, of course, but not something that almost every other sitcom of the time wasn't also guilty of. The way it deals with being gay is also embarrassingly teenage – if it's about the guys, then it's full-on gay panic mode, with squirming denials from the accused party.
If it's about the girls, well then it's usually mostly about the guys fantasising about what it would be like to watch. Yup, pretty ugly stuff. And that's before we get into the insane levels of mismanagement over Chandler's father, as played by Kathleen Turner. It's as if nobody who wrote the show actually knew what the character was supposed to be. They're referred to, and seemingly comfortable with, being called 'Dad' and 'Charles', and work in an all-male vegas revue, so a drag act, then? But wait, played by, and lives off-stage, as a woman, so trans? But still referred to by male labels. It's a fucking mess.
But you know what does still work? Aniston. There's literally not one episode that we've watched where Jennifer Aniston hasn't caused one of us to turn to the other and say: 'She's so good.' She's by far the most naturalistic performer of the cast. Nails every single line given to her, while not sacrificing character for gag timing.
But more than that, she gets laughs – and big ones – from stuff not in the script. Reactions. Expressions. Beats. She's seriously amazing, and it's a predictable but nonetheless depressing shame that she's done very little in her post-Friends career that uses her bulletproof talents.
Oh, and also I'm going to cheat a little bit here, and add another person to this entry. Vanessa Bayer has been far and away one of my favourite recent-ish cast members of Saturday Night Live. She's responsible for a bunch of beautifully realised and very silly characters – Jacob the Bar Mitzvah boy, the spectacular Dawn Lazarus, and a stunningly good Rachel Green from Friends – which lead to this lovely little moment.
Peter John
In my late teens, a lovely old-school impresario named Ian Liston took a chance on me and started booking me to be bottom of the bill in his touring music hall show. It was my first time working big, gorgeous theatres with real wings and red velvet seats. My first time working with significantly more grown-up acts. My first time working with the famous people who would top the bill. I loved it. I knew my place was to try my best not to fuck it up, and to learn all I could from the talent that my name shared a poster with. That was when I first met Peter John.
A founding member of the National Theatre. He'd performed with Olivier. As a comedy actor, I'd already seen him, unknowingly, on a Morecambe and Wise Christmas show. But his passion was music hall, and he devoted his life to being one of its greatest modern exponents. The young me often shared a dressing room with him, and I sometimes wonder if that was from necessity, or if I was thrown in there to learn. Either way, I did learn. He kept me giggling between shows, told me off when I bought smelly food backstage, and gave me little tips and gags, either new, or from a long-since forgotten act.
I'd do my bit, early in the show, pack my props away, and go sit in the wings to watch him. Every night. I was in awe of his craft. Immaculate. Timing like a nuclear clock. Leaning forward on the ball of a foot in conspiratorial whisper with the crowd, before dropping an eye-widening depth charge punchline that sends the audience into shockwaves of scandalised giggles. He was then, and absolutely remains, the best stand-up comic I have ever worked with.
And yes, I said remains. Because although the touring music hall shows that first introduced me to him have long since ended (Partly due to the very sad death of the irrepressible Mr.Liston), Peter is still working as hard and as well as he always has. It was my pleasure to welcome him to the stage of one of my London Varieties shows, where he had me introduce him as an old man who I had found wandering around the venue.
He regularly plays music hall shows at the Charing Cross Theatre, Leeds City Varieties, and beyond. Go see him. If his story of the over-60s nudist gymnastics team doesn't fold you over with laughter like a broken deck chair, then nobody can help you.
A few years ago, my wife and I were walking past a theatre and noticed that he was, by chance, performing there, in a show starting in just a few hours. We bought tickets and went. She hadn't seen him work before, and after she had, she told me that when I perform, I stand on stage the exact same way that he does, and that some of my lines had a very similar timing. I'd never realised this, but couldn't wipe the smile off my face, that a little of his style was in mine.
Mat Ricardo vs the World is on at Laughing Horse @ City Cafe at 12:30.
Published: 15 Aug 2018
What do you think?