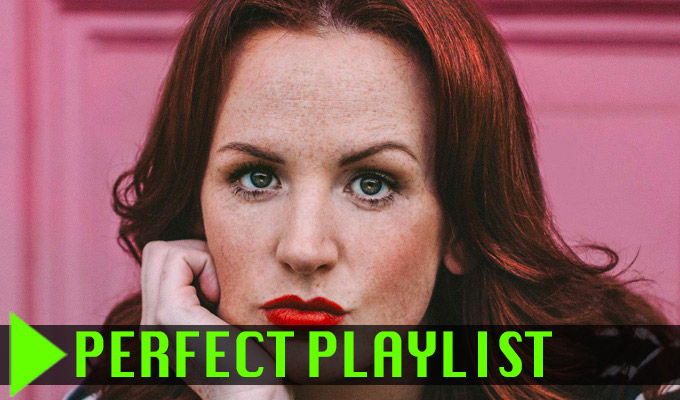 I just thought: 'Who is this woman and how can I be her?'
Joan Rivers on TG4 
When I was growing up we had four television channels, because my parents didn't get cable TV until I was 17. One of those channels was an Irish language channel called TG4. I don't know how, but TG4 had amazing American TV shows. Some kind of foreign aid package, I imagine. The OC, One Tree Hill, Survivor… and stand-up comedy. The only person I remember from the latter was Joan Rivers.
Now because TG4 was an Irish language channel, when Joan Rivers' stand-up was on they would dub or subtitle her. And I would sit really close to the TV with my ear to the speaker, just to make her out in English. And I thought she was incredible. I also thought she was the only female comic who existed. She was certainly the only woman over 50 I'd seen on TV who wasn't reading the news.
She had such an unapologetic, high status on stage and would say things I was so shocked by that I'd switch from laughing to gasping and covering my face like only a kid can when a woman who looks like her school principal mimes choking on dick.
The jokes I remember most of hers were about her husband's suicide. I couldn't believe she was saying it, laughing about it and getting away with it, and I just thought: 'Who is this woman and how can I be her?'
Sarah Millican: Thoroughly Modern Millican
First of all, she's a joke machine. Her turnover of material is insane - I've never seen her be bad on a panel show, she speaks to my most vulnerable self at all times, she is constantly comfortable in herself and she makes me laugh so much she gives me stitches.
My sister, my mum and I all love to laugh but often have totally different taste in comedy. But the three of us could all watch her all day long. She's also just very nice. She is the butt of her own jokes, never anybody else, and that makes you as an audience member trust her totally.
I first watched this DVD in my early 20s, when the predominant representation of comedy on my TV screen was men in suits. I've been trying to think about why I was so in besotted with Millican from first seeing her and it's not just that she didn't look like every other comedian, she also doesn't sound like them.
I love her voice, her warm, high-pitched, musical tone means she can lull you into a sense of comfort but can also be quick and sharp-tongued when she needs to be. As a fellow high-pitched lady with a penchant for wrap dresses, seeing her on TV as much as I did when growing up meant I never doubted that comedy was something I could do.
Tommy Tiernan's Loose
More Irish language stuff here… When I was at school, learning Irish was compulsory. So most of us spent a few weeks of our summer at Irish language camp in Gaelic-speaking parts of Ireland in order to get a better grasp of the language.
The last year I was there, because I was one of the older kids, we were sometimes allowed to watch the TV (provided it was in Irish). But one of the girls who was staying with us had brought Tommy Tiernan's DVD. We figured we'd get away with playing it because his accent was thick enough that if the teachers heard us from the other room they would presume he was speaking in Irish. We were wrong.
What I remember most about the show was his intense physicality and seemingly ever-present irritation at everything he chose to speak about.
His comedy is often angry, in a great way. By that I mean he is passionate, and connected to the things he is talking about. What thrilled me to finally see him live last year at the Fringe is that when you see him up close you realise that he's also gleeful on stage, he's got a sort of knowing joy at the prospect that he's about to thrill you. And he's right. 
Ellen Degeneres 
I remember seeing the episode of Ellen when Degeneres came out. I watched it at my friend Amy's house and her mum switched the TV off very quickly. Of course when I realised I was bi, part of my self-discovery was going back down that Ellen wormhole and discovering her early stand-up. I think part of the reason there are so many gay female comedians is that we all discover Ellen's stand-up at a formative age and decide that must be how you get girls. (Just me? OK)
I always find it so frustrating when people refer to Ellen, the talk-show host. If that's all you know her as then go watch her stand-up, immediately!
Dylan Moran
Dylan Moran was the first comic I remember seeing and he was so formative in my understanding of comedy as something that could be unrelentingly verbose. He has this capture of language that is completely hypnotising to listen to. It doesn't matter what he's saying, he could be segueing between subjects, and you'll be like 'go on…'. I loved, and still love, that seeing his comedy is a rare window into a captivating intellect.
I first saw him live at the Hammersmith Apollo a couple of years ago, and he was as good in person as he had been on the TV. But the most exciting time I saw him was last year at Gilded Balloon when he did a work in progress show where it was thrillingly apparent that the fluidity and eloquence with which he tells jokes is just how he speaks normally.
There was something about that show that made me think that even if none of us had been there he would be thinking and saying those things,  which has an intimacy to it that I've never seen anyone else be able to create.
Also I had a massive crush on him when I was 13. He's a drinking woman's Colin Firth.
Salem, Sabrina the Teenage Witch
Has there ever been a funnier man on television than (queer icon) Salem, the cat from Sabrina the Teenage Witch? I don't think so.
There was something so wonderful about watching a moody teenager moan about having *super powers* to a man in a cat's body that couldn't even leave the house… and he was sardonic and funny enough that that was an equal relationship.
He was the comedic reprieve from three women who would spend their lives moaning about how hard it was that they could make people do whatever they wanted using magic.
Just great TV. To this day, were they to make a chat show hosted by Salem, I would watch. He could eye roll while privileged teenagers moaned about their perfect lives.
• Catherine Bohart: Immaculate is at the Pleasance Courtyard's Bunker 2 at 4.15pm.
Published: 8 Aug 2018
What do you think?