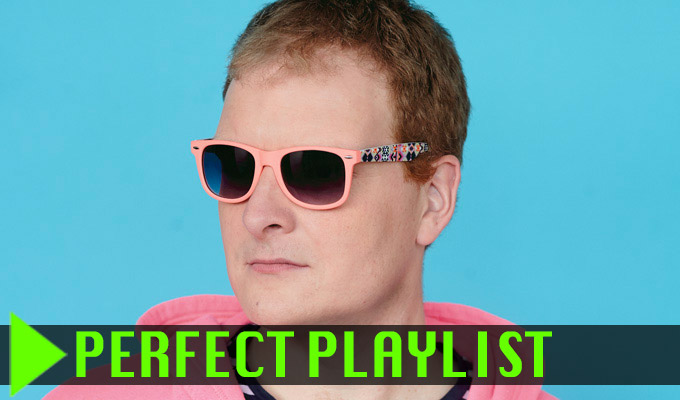 'I like swearing, stories and black T-shirts'
Frasier
I cannot express how much I love this show. I think its the perfect sitcom. It's stupidly smart. Really farcical and makes it seem like you are learning while you are actually forgetting most things you have learned due to the waves of the TV screen.
Oh and when you find out that Kelsey Grammar was half cut and on booger sugar makes the whole thing seem way more rebellious I guess.
Kids In The Hall
When I was kid, Canadian TV seemed like it was the news, puppet shows and hockey. Then one night I was put in front of the television during a dinner party or some gathering and Kids In The Hall came on.
It was like someone had highjacked the airwaves. I turned down the volume, afraid I would be in trouble for watching something that had to be bad.
They're the five most important people in Canadian comedy because they represented comedy that was not just a man in chino's discussing hockey jersey's and the short comings of their marriages.
Scott Thompson once said hello to me at a show and I said, 'Okay.' Honestly, I am mush mouth around them there boys. Seriously I met Dave Foley and I said: 'You are you!' He said: 'Wow!'
Wayne's World
Who doesn't like this movie? It should be a piece of shit. Seriously it should not work BUT IT DOES. I love this movie so much that when bored I just try to see if I can recite the entire movie from beginning to end. I can.
I need to lead a more exciting life.
Billy Connolly
What can I say? I like swearing, stories and black T-shirts.
For me, he is the best. I love his intensity how he approaches material, and the fact he dresses like a vintage shop threw up on him makes for this complete picture.
Check out the Brooklyn Academy of Music performance, it is sublime and simple. He does not even Take The Mic from the stand… and he wears some pretty fucking excellent high-waisted jeans that make it appear he did his shopping at the clothes line of an 1980s power mom.
Joan Rivers
So everyone says there are two paths every stand up walks down. One forged by Carlin or the other blazed by Pryor. I think these people are simpletons who have totally forgotten about Joan Rivers.
She was biting, socially aware and was always herself. She was not some strange hippie weatherman or a Bill Cosby clone for a period of time like Carlin or Pryor. She burst onto Ed Sullivan as herself and was such a good joke-writer she got abortion jokes, past censors!
She is hugely important to the evolution of comedy and I think bridges the gap between Showbizzy 1950s stand up comedians and counter-culture stand up comedy of the 1960s. She rules!
Dylan Gott
I started with him. He is better than me at comedy. He is not doing the Fringe so go watch all his YouTube clips. Seriously he once responded to a heckler by purposing that his aggression may stem from the fact that Dylan has 'fatter loads than him'. It's a strategy that worked and keeps me warm with laughter on cool cool nights.
I know what you are thinking. 'If you like Dylan why don't you start a podcast with him?' I did.
• John Hastings: Float Like A Butterfly John Hastings Like A Bee, Pleasance Courtyard, 20:30
Published: 6 Aug 2018
What do you think?