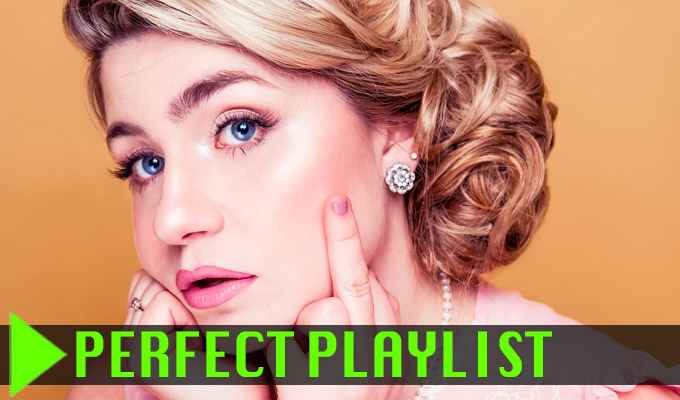 'As someone who's accidentally killed an owl, I have a lot of sympathy for Larry David'
Maria Bamford
After seeing her in London a few months ago I really think she might be the best comic in the world at the moment. She is so vulnerable but hilarious on stage and really makes me feel you can find the funny in the bleakest moments – although I can never understand her decision to do the special she did only to her parents.
I had to cancel a gig when she was over here because I had to get a tooth pulled and she ended up performing on it. I silently sobbed into my jelly.
Curb Your Enthusiasm
It's just perfect. This is from my favourite episode, Black Swan.
On a side note I love that this clip is called Larry David Murders Swan (Real). As someone who has accidentally killed an owl I have a lot of sympathy for Larry here. I relate to Larry and his awkward encounters a lot. To be honest I can't quite believe how much I have in common with an old rich man.
The American Office
I watch the entire 9 series every year. And every time I cry at several points. I love them all, Michael Scott and Dwight are up there with the best character creations of all time but every character is so defined.
I love their epic season openings. The fire in the office and Michael running over Meredith with his car.
If I had to have a special subject on Mastermind this would be it. I mean to be fair I don't have many other options. This is from the fire drill where things escalate VERY quickly.
Pulling
I once turned up crying at fellow comic Kate Lucas house after some heartbreak or other and she put on Pulling and we were laughing within minutes.
I am a massive Sharon Horgan and Dennis Kelly fan. (I've just realised a lot of these choices involve me crying?!)
Here Donna is ordering a kebab exactly how I would and over reacting to the theft of her kebab EXACTLY how I would.
Borat
I was living in New York at the time and we went to see the film in the cinema and I have never known an audience to laugh so loudly.
He seemed to highlight prejudice in a way I'd never seen before that was funny and shocking. Sacha Baron Cohen is such a brave performer, taking so many risks and they mostly pay off. It remains one of the funniest ever films and one of the absolute worst to watch with your Grandma.
Here he is singing the Kazhakstan 'national anthem' to the tune of the American National Anthem.
Nathan Barley
I really wanted to put The Mighty Boosh but then I remembered both Noel Fielding and are Julian Barrett are in this so I feel like it's still kinda on my list.
I watched this while I was living in Shoreditch not long after I saw a man in a top hat ride a penny farthing down London Fields market. It's so great, I wish there was another season.
Also I really sympathised with Pingu who is the subject of horrible pranks because that was what living in a houseshare with a bunch of comedians was like for me, Matt Rees.
• Harriet Kemsley: Slutty Joan is on at Voodoo Rooms at 17:55.
Published: 5 Aug 2018
What do you think?